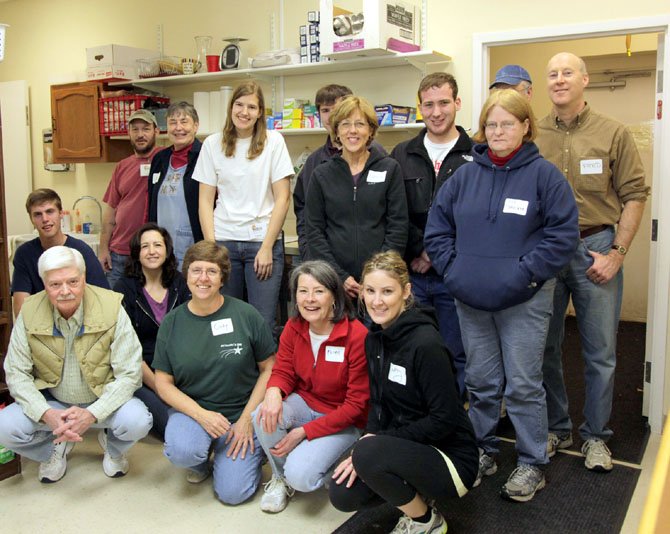 Centreville — In 1987, a dozen churches in Centreville, Chantilly and Fair Oaks were inundated with people walking in and asking for food and money. Eventually, the pastors discussed it among themselves and devised a plan.
"They didn't know if the needs were legitimate and they realized some people were going to several places for help," said Jan Welch, former executive director of Western Fairfax Christian Ministries (WFCM). "So the churches got together, donated money and volunteers, and kept records."
With no paid staff, they created a board of directors and worked toward becoming a nonprofit in 1991. Since then — despite the meteoric rise of wealth in Fairfax County as a whole — requests for food, clothing and monetary aid here have grown exponentially. And now, as WFCM celebrates its 25th anniversary, the need for its services is greater than ever.
"The mission is still to provide basic, essential life needs — food, clothing and financial assistance — plus budget counseling," said WFCM's current Executive Director, Melissa Jansen. "But the demand increases every year."
In the early days, she said, the group had on-call volunteers who answered residents' phone calls and wrote down their names and the type of help they needed on index cards. "Eventually, someone donated a laptop computer that the volunteers shared and took home to input the requests," said Jansen. "Then the board treasurer would write checks to the callers' landlords, utility companies, etc."
But, said Welch, the churches had to coordinate with the county because — while they could help people buy gas or pay an electric bill — they weren't able to give the full amounts of money that people needed to, for example, pay their rent for a month. So either the county would help or would contact other charitable groups to pitch in, too, to get people through their crisis.
Welch, of Little Rocky Run, joined in 1994, taking over the reins from Executive Director Klaire Jameson of Centreville Presbyterian Church. By now, the client card file was filling up boxes in Welch's home — which became WFCM's office — so she computerized all the information. As more churches joined and the need for help grew, WFCM needed more space.
"In 1996, Dale Keener offered part of his insurance business in Centreville as the food pantry," said Welch. "So churches that had been maintaining their own pantries donated their food supplies to the central pantry. And the Giant in the Colonnade at Union Mill donated bread, canned goods, fruits and vegetables. Then in 1997, the Boy Scouts began doing their food drive for us, and that has been a Godsend."
The next year, Centreville United Methodist Church contributed its clothes closet to WFCM which, by then, was also housing its clothing at Keener Insurance. And Welch again sought a larger space. She called Supervisor Michael R. Frey (R-Sully) who called Beatty Management and arranged for WFCM to rent space at a low amount near the Chantilly Kmart.
"We had a lot of volunteers working there, started making money from the clothes closet and were able to give more help to people needing it," said Welch. "When Klaire was there, they were fielding three or four calls a day. When I left in 2001, we were up to 20-22 calls a day."
In November 2002, WFCM Executive Director Dorothy Fonow gave a snapshot of the organization's work. "For the fiscal year ending June 30, [2002], we gave out 46 percent more food than in the previous year," she said. "People make 15-minute appointments to shop for food on the days the food pantry is open, and our appointments are booked three days in advance — especially Saturdays."
As a result, in fiscal year 2002, WFCM provided 2,065 families with 10,283 bags of food valued at $30 each and totaling $308,490. That figure was nearly $100,000 more than in fiscal year 2001. WFCM also gave financial assistance to 337 households, equaling 1,050 individuals.
By then, the organization had more than 200 active volunteers and 26 churches serving residents of Centreville, Chantilly, Clifton, Fair Oaks, Fair Lakes and Fairfax Station. Jansen became executive director in January 2008 and, in April 2009, WFCM renovated and enlarged its food pantry — by then at its current location at 13981 Metrotech Drive in Chantilly. It also opened a thrift store in the space next door.
WFCM now has 850 volunteers who gave a total of 20,000 volunteer hours in fiscal year 2012. They're in addition to all the Scout, student, church and business groups who've also donated their time. And with the downturned economy, the need has continued to soar.
A 2010 Brookings Institution study of census data referenced in the Sept. 22 Washington Post revealed that, in Washington, D.C.'s Virginia suburbs, the largest increases in the number of people living in poverty in recent years have been in Centreville, Chantilly, Linton Hall and Leesburg.
As a result, from July 1, 2011 through June 30 of this year, WFCM gave out 32,000 bags of food, equaling 369,000 pounds. "That's over $590,941 in value," said Jansen. "And that's not including the clothing given to clients or the $146,713 in financial assistance for rent, utilities, car repairs, gas cards, medical/dental care, prescriptions and transportation."
During that same time period, added Jansen, "We saw 3,272 individuals who had food, clothes and financial-aid needs. And we graduated 20 people from our budgeting class."
For many years, WFCM has also done community outreach via its school backpack program and by providing Thanksgiving and Christmas food baskets to people in need. "This year, we gave out a record 1,889 backpacks to 23 schools," said Jansen. "And last year, we gave a total of 1,587 holiday food baskets. When I first started, the backpacks and holiday baskets each totaled about 1,000."
Basically, she said, "The downturn of the economy has caused people to lose their homes, jobs and income. Homelessness in Fairfax County is decreasing; however, poverty is still the same. Some 57,000 people in this county are living at or below the poverty level. That's alarming to me because we live in such an affluent county with lots of resources."
Looking toward the next 25 years, said Jansen, "I think things will get better, but there's no guarantee. My hope is that WFCM will be able to continue existing and still serve this community. But to do so — and even now — we rely on donations from the community. We especially need financial contributions, but giving in the community is down because of economics — yet the need is still there. We're a nonprofit, but we still have to pay our bills to function and keep serving the population."
She said the toughest part of her job is balancing a quality program on a limited budget, while continually encouraging her staff — six full-time and six part-time people — because "they're seeing people in crisis every day. Of course, the most rewarding part is seeing the smiles on the faces of the clients when they leave our office and I know they've been helped in some way."
Even Welch is still involved. After Fonow left in 2007, she returned to lead WFCM for one more year until Jansen was hired. She then joined the board of directors before retiring again, a few years ago. But on Mondays, said Welch, "My husband and I pick up donated food from Food Lion to bring to WFCM."
She's enjoyed "getting to know so many wonderful and generous people in the various churches and community groups. I still treasure those friendships and all the nice things I saw people do." She also stressed how important WFCM's work is.
"As a community, we can't have people dying from starvation. These are our neighbors, our friends — people whose children are in school with our children," said Welch. "This is a Christian organization, and we're responding to God's call to love our neighbors as ourselves."
It's also part of America's heritage, she said. "The pilgrims and pioneers didn't leave for new areas alone; they banded together and helped each other. People depended on each other to survive, and we still do. That's who we are as Americans, as citizens."
Excited about WFCM's 25th anniversary, Welch said, "I think it's fabulous that we've been able to continue this work with the help of the community and the churches. I'm happy that so many people are willing to step forward and give of their time, treasure and talent. And I hope others will be encouraged to participate, because there's still a great need out there and we still need people to help."