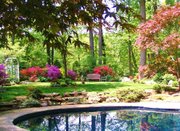 On Wednesday, May 1 (rain date: May 2), the Woman's Club of McLean will mount the community's first Kitchen and Garden Tour. The hours of the tour will be 10 a.m. to 3 p.m. Set in Countryside Estates in west McLean (the same area that was featured in the club's 2010 Holiday Homes Tour), the event will focus on the kitchens and gardens of six large homes situated on one-acre lots.
Each lot has enough space, often in front as well as in back, for extensive gardens, along with decorative arbors, borders and winding paths; small and large pools; patios; and decks. In many cases, professional landscapers have helped to design the layout and content of the gardens. The tour booklet will list in detail the varieties of plants, shrubs and trees present, as well as other landscape features. The Countryside area is known as one of the most beautiful neighborhoods of McLean when the gardens are in bloom.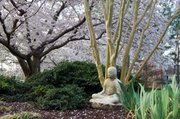 The tour houses are located on Holyrood Drive and Countryside Court, near Balls Hill Road and Georgetown Pike. Woman's Club organizers hope that the closeness of the area to the Beltway (Exit 44) will make it easily accessible. Parking will be available on the street. Visitors can then walk from house to house, as indicated in the tour booklet, which will also serve as a ticket.
After entering each home, visitors will pass through the kitchen before going out into the garden area. The kitchens of the six homes tend to be large, and many have recently been redesigned and updated. The homeowners, as well as Woman's Club hostesses, will be on hand as guides.
Tickets for the Kitchen and Garden Tour will be $25 if purchased before the day of the tour and $30 if purchased on the tour day. Tickets are for sale at three local businesses: Flowers and Plants, Etc. (1378 Chain Bridge Road, McLean), Karin's Florist of Vienna (527 Maple Ave., E., Vienna) and Great Dogs of Great Falls (9859 Georgetown Pike), in addition to Vinson Hall Retirement Community (6521 Old Dominion Drive, McLean). On the day of the tour, tickets will also be available at the tour houses.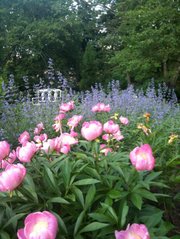 All proceeds of the tour will go to the Wounded Warrior Transitional Housing Project at McLean's Vinson Hall Retirement Community. The project is supported by the Navy-Marine-Coast-Guard Residence Foundation and is designed to provide young wounded veterans of the Afghanistan and Iraq wars with the special living conditions their situations require.
For more information, contact a McLean Woman's Club member at 703-556-0197 or sheridan2@cox.net.