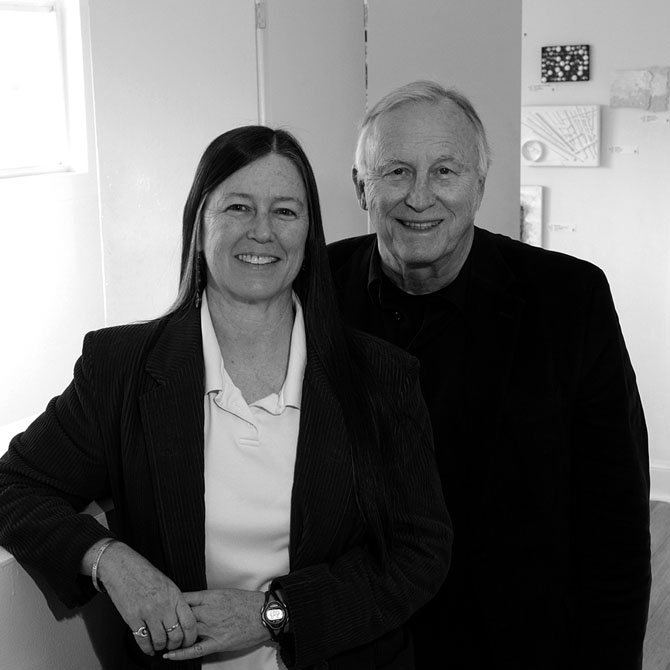 Living Legends: The Project
Living Legends of Alexandria is an ongoing 501(c)(3) photo-documentary project to identify, honor and chronicle the people making current history in Alexandria. The project was conceived in 2006 to create an enduring artistic record of the people whose vision and dedication make a positive, tangible difference to the quality of life in Alexandria.
Platinum and Gold sponsors this year are the Alexandria Commission for the Arts; Club Managers Association of America; Goodwin House, Inc.; McLaughlin Ryder Investments; Renner & Company, CPA, P.C. and SunTrust Bank.
This is one of a series of profiles that will appear this year. For information, to volunteer, become a sponsor or nominate a future Legend, visit www.AlexandriaLeg... or contact Legends@Alexandri... .
One is an accomplished architect, the other an award-winning photographic artist. Together Marlin G. Lord and Kathryn A. Brown transform the world around them and give tangible evidence to the philosophy of Johann Friedrich von Schiller: "He who has done the best for his own time has lived for all times."
Lord brought his Midwestern values, sense of community and can-do attitude with him when he came to the Del Ray section of Alexandria 47 years ago from Minneapolis to join the architectural firm of Vosbeck, Vosbeck, Kendrick and Redinger (VVKR). Today the results are evident, not only in structural form, but also in his ongoing activities and civic and philanthropic actions citywide.
Brown was born in Hato Rey, Puerto Rico, grew up in Westfield, N.J., and graduated from Pennsylvania State University with a bachelor of arts degree emphasizing fine art, architecture, art education and history. Twelve years later, after working for several firms as an architectural draftsperson, and a sojourn in California, she decided her first love was photography. However, it was her architectural drafting capabilities that brought her in contact with Lord. She applied for a job at VVKR. Lord, then a vice president of the firm, recommended that she be hired.
"We came upon one another in the stairwell of the building after she was hired and I said that I was the one who had recommended her," Lord said. That was in 1979. It was the beginning of an alliance that has benefitted Alexandria and its residents for more than 33 years.
In addition to being founding members of the Del Ray Artisans (DRA), a nonprofit organization with the mission of promoting art and community, Brown's and Lord's other joint civic endeavors include the King Street Gardens Park Foundation and Chinquapin Organic Gardens. They also work together at Lord's architecture firm, Marlin G. Lord AIA Architect. Lord is the company's principle architect and Brown is the draftsperson. They share design responsibilities. They also support each other's photographic art and submit their work to exhibitions throughout the metropolitan area.
A MINNESOTA NATIVE, Lord earned architectural degrees from the University of Minnesota in 1960 and 1962. His architectural designs in Northern Virginia include the National Council of Teachers of Mathematics headquarters in Reston, the Thomas Jefferson Elementary School in Falls Church and the restaurants Los Tios Grill on Mount Vernon Avenue and Dos Amigos on Braddock Road.
Perhaps Lord's greatest architectural contribution to Alexandria was his leadership on a new design for the old Monroe Avenue Bridge. The straightening and redesign of the bridge resulted in safer and more efficient traffic flow on Jefferson Davis Highway, improved the Potomac Yard land-use plan, expanded parkland at Simpson Field and led to the revitalization of Mount Vernon Avenue as a safe and thriving commercial and residential primary artery through Del Ray.
In 1983 Brown left VVKR to establish her own commercial photography firm concentrating on events, products, public relations and architecture. She received an A.A.S. degree in commercial photography from Northern Virginia Community College in 1988. She continues to provide drafting service to Lord's architectural firm. "Photography is both a vocation and avocation for me. As a full-time, self-employed commercial photographer I strive daily to provide visually stimulating images to fulfill my clients' needs. As a fine art photographer I strive to balance the pressure of deadlines with the release of the creative process," Brown said.
Brown has served as vice president of internal affairs and grant chair for Artisans United, Inc. in Annandale, and is a legacy member of The Art League in Alexandria. She has served as treasurer and newsletter editor of the Business and Professional Women's Club of Fairfax County and is a member of the Del Ray Business Association, the Del Ray Citizens Association and Agenda:Alexandria. She served a term on the visual arts panel of the Alexandria Commission for the Arts. She was a member of the Alexandria Chamber of Commerce cultural arts committee from 1991 until the committee was disbanded and in 1992 became the Alexandria Arts Forum, a coalition of artists and arts patrons, advocates and administrators. Brown helped found the forum and for 18 years has served in multiple positions on its board.
One of Brown's most recognized ventures was cutting and donating her long hair to Locks of Love, an organization that collects human hair to make wigs for children who suffer from diseases that cause their hair to fall out. "It was recommended for me to do this by my fellow DRA members," Brown said. Her hair had not been cut since she was in the eighth grade. It had reached nearly to her knees before her first donation of 17 inches in 2009 to Locks of Love. She repeated the donation in 2012 with a donation of another 17 inches. Her donations were leveraged to raise funds for the Ted Eichers Memorial Art Scholarship, which awards $1,000 annually to a T.C. Williams High School senior. "I was amazed by the depth of the warmth and generosity that I found as I spoke with fellow Alexandrians," she said. "In the end we were able to donate $800 to the fund."
AS FOUNDING MEMBERS of Alexandria's Urban Design Task Force, Brown and Lord fostered an international design competition for King Street Gardens Park, located at the intersection of King Street and Daingerfield and Diagonal Roads. The project was the recipient of many grants, which helped lead to its creation. It was also funded in part by the Buy a Brick, Build a Park campaign, spearheaded by Lord and Brown, serving as volunteers.
"There was a fair amount of controversy and even a proposal by some to have it torn down. But supporters of the project threatened to chain themselves to it if any attempt was made to dismantle it," Lord said. The park now hosts Wednesday farmers markets from May through October and an annual Supper Under the Stars organized by the Old Town Business and Professional Association.
For 20 years Lord served as a member of the Alexandria Park and Recreation Commission, including seven years as chair. Over the years Lord has also answered the Alexandria City Council's call to serve on the Waterfront Committee, the Alexandria 2020 Ad Hoc Committee, the Washington Area Council of Governments citizen land-use advisory committee and the Upper Potomac West Task Force, to mention a few. He is a former president of the Del Ray Citizens Association and a recipient of the Del Ray Business Association's Star Award.
Lord is also an award-winning photographer in his own right. "He won an award for his photography in the first show he ever entered," Brown said.
Together, Lord and Brown have not only changed the face of Del Ray but also have been instrumental movers and shakers in many activities and projects that have improved the City of Alexandria and the lives of its residents.