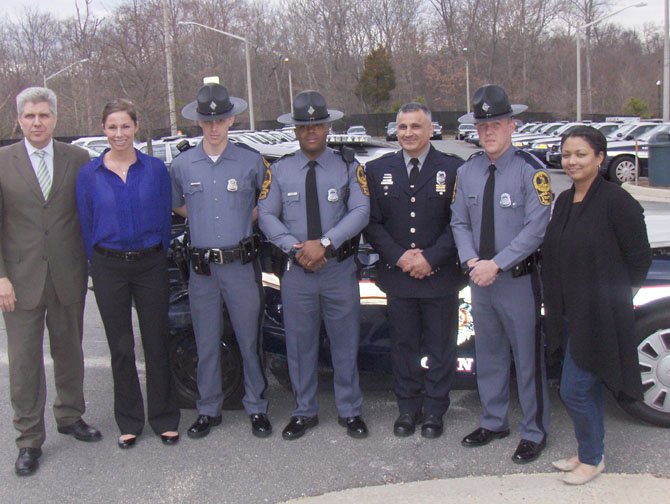 Photo Gallery
'These Citizens Are the Heroes'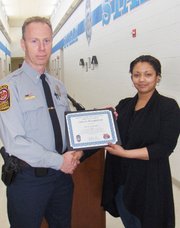 Click Photo for Flash
A mother allegedly high on drugs — and driving 70 mph in a car containing an infant and a 6-year-old without a seatbelt — led to a three-car crash on March 11 that could have ended in tragedy.
As it was, it sent five people to the hospital, resulted in the mother's arrest and brought out the best in public-safety personnel and ordinary citizens who came to the rescue of the children and of police PFC Rockie Akhavan, who was trapped in his cruiser.
"Rockie was one of several heroes out on the job that night," said Capt. Ed O'Carroll, commander of the Sully District Station, where Akhavan's been a patrol officer since the station opened in 2003. "But sometimes, even our heroes need help."
And last Friday, March 29, in a ceremony at the station, Akhavan, the citizens and three state troopers were honored for their efforts in this incident.
On March 11, shortly after 10 p.m., Akhavan was parked on the I-66 divider, looking for speeders going west when Virginia State Police issued a lookout for a suspected drunk driver in a 1993 Chevrolet. Then a pastor and his daughter driving on I-66 east came up to his cruiser and told him about a vehicle — the Chevrolet — they'd seen driving erratically.
"We'd followed it, 15-20 minutes, and it was weaving and sometimes on the shoulder," said Emily Zetts of Rockville, Md. She and her father were driving home after visiting relatives in Waynesboro. After seeing the car almost rear-end another vehicle, they notified state police. Then, seeing Akhavan in his cruiser, they told him, too, and gave him the vehicle's license-tag number.
"They said, 'A lady on the road is going to kill somebody; she almost hit us,'" said Akhavan. "So I got onto I-66 east and, as I approached the Fair Oaks west exit, a vehicle dashed from the far right lane and almost hit my cruiser, so I pulled him over."
He said this motorist, a male in a Toyota, had swerved "to avoid the drunk driver." At the same time, Akhavan saw the car Zetts told him about driving on the shoulder.
"I'm in my cruiser, with the lights and siren on, waiting for the car to pass me," he said. "Instead, she drove on the shoulder and hit the rear of the cruiser, pushing it 80 feet and into the Toyota." The force of the impact then propelled the Toyota 190 feet forward. Said Akhavan: "Our Accident Reconstruction Unit estimated the [Chevrolet's] driver was doing 70 mph."
Meanwhile, the Chevy had also struck and damaged the cruiser's passenger side, and the blow affected the other side, too. "The door was jammed, so I couldn't get out of the driver's side," said Akhavan. "I see smoke and I think the cruiser's going to catch on fire."
But the Rev. Gregory Zetts and his daughter had stayed on the scene and yanked on Akhavan's door until it opened. "Someone needs help, you stop," said Emily Zetts, 21. "It's a human reaction."
Noting that the Chevrolet's driver didn't brake at all, but struck the cruiser full force, the pastor said, "When we tried to pry open the door and couldn't, we were concerned because of the possibility of the car exploding."
Then they heard crying coming from the Chevrolet, so Emily Zetts rushed over to it. She got the baby boy, 1, out of his carseat, and then took his brother, 6, from the car. "He was bleeding from his eyes, nose and mouth and his left eye was swollen shut," said Emily. "The mother was slumped over, toward the passenger side, yelling. I turned off her vehicle and left her."
Gregory Zetts said the boy was screaming, "I can't see out of my eye." Just then, another citizen, Stacey Hawkins, ran up to them, so Zetts lifted the injured child over the guardrail to her and told her to take care of him. Also driving on I-66 east, she'd seen the crash and stopped to help.
"Everything happened within seconds," said Zetts. "I ran back to the cruiser and pried open the driver's side. I didn't have any tools; I just yanked on it. It was divine intervention that it opened. The officer was shaken up, and I told him, 'This is miraculous; the Lord is looking out for you.' And he said, 'I think you're right.'"
In the meantime, Hawkins, 30, a sales associate at World Market in Fair Lakes, tended to the boy. "He had no idea what had happened; he was asleep in the back seat," she said. "He was in his pajamas, with his little blankie, and was whimpering because he was in so much pain." He said his eye hurt and he was cold, so Hawkins took off her coat and wrapped him in it.
"I grew up in a big family, so I'm used to babysitting," she said. "I told him he was going to get to ride in an ambulance and they'd give him lollipops and ice cream. I kept telling him to stay with me because I didn't want him to pass out. He asked about his mom, and I said, 'She's hurt, but she's going to be OK.'"
By this time, state troopers John Yacek, Matthew Ratliff and Lorenzo Goode arrived, controlling traffic around the accident scene, keeping everyone safe and beginning the investigation.
Akhavan said the baby's carseat wasn't properly secured so he, too, was "banged up" in the crash. A father, himself, Akhavan said, "The first thing that came to my mind was that it could have been them hit by a drunk driver. You think about your family and friends; DWI kills. If not for these citizens putting themselves in harm's way, it could have been a chain-reaction crash involving more vehicles."
"Any officer would have done what I did," he continued. "But these citizens are the heroes. They not only gave the lookout, but followed through, took care of the injured and got me out of my cruiser. They saved lives because, that night, the impaired driver was high on crystal meth; a blood test showed that."
The Chevrolet's driver, identified as Diana Holloway, 26, of Warrenton, was later charged with two counts of felony child endangerment, possession of crystal meth and DUI.
Afterward, Akhavan, Holloway and the children, plus the Toyota's driver, were treated at Inova Fairfax Hospital and later released. O'Carroll and Sully District Station Asst. Cmdr. Rich Morvillo visited Akhavan in the hospital, and his immediate supervisor, Lt. Mike Reeser, plus Sgt. Brian Gatos, contacted his family.
"The amount of support I get from these guys motivates me to do what I do every day," said Akhavan, a 15-year police officer. "I had a concussion and a bruised brain, back, right elbow and shoulder." Under a neurologist's care, he planned to have a CAT scan, March 30, because he's still having headaches.
"I got hit at 70 mph with a 5,000-pound vehicle," said Akhavan. "But with a little bit of luck, the way the cruiser is built, and God, I walked away from that accident. I've always taken DWI cases seriously but, after this, I'm even more vigilant."