Sometimes a good opportunity isn't obvious at first. To see what's possible, one must look past surfaces. The facade of a 3,400 square foot frame house at the end of a Fairfax Station cul-de-sac, for instance.
Photo Gallery
Sun Design Remodeling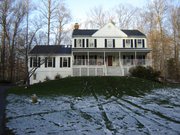 Click Photo for Flash
The year is 1987. Engineer Scot Minesinger, then in his late 20s, is thinking about the future.
At a glance, there are many things about the frame house Minesinger doesn't like, starting with a faux cross-gabled roof line that seems to have no reference in any architectural style.
The "spindly" front porch and the white vinyl siding are also detractors, as is the facade that's not so much understated as "bland."
Around back, Minesinger finds nearly 60 linear feet of rear elevation varied only by smallish, builder-grade windows — a peculiar glazing design, given the lovely woodland setting all around.
Still, the house had been on the market for two years, and Minesinger is looking for something to build his dreams on — a place where a future family might thrive in the fullness of time.
Considered from this perspective: a house on two rolling acres has a lot to offer, the only real problem being to figure out how that emergent "family home" — re-designed to taste — will actually look.
"I wasn't in a hurry," Minesinger said, explaining the 25-year gap between the dream and its fulfillment. "I wanted a more sustainable home energy system first. And while I saw the potentials in the rear of the house, I was looking for the combination of suitable influences that would move the project forward."
So the big picture unfolds incrementally.
In 1996, after occupying the house for six years, Minesinger designed a geothermal-based energy system, which he installed in the front yard. "My winter utility bills dropped to about half," he said. "It was a step towards independence that makes other changes possible."
That said, it may be unsurprising to learn that one so ardently methodical eventually discovered how he wanted his house to look by hiring a design build firm to help him think it through.
"My wife, Carolyn, had been clipping stories from magazines for years," Minesinger said. "We wanted the house to be appropriate to this terrific setting, but we needed people with real experience to help us shape our ideas"
ENTER SUN DESIGN REMODELING of Burke, a residential design/build firm recognized for innovative whole-house makeovers.
"It was critically important to me to find a process through which Carolyn and I could explore our thoughts together. In this regard, the 3-D space modeling approach offered by Sun Design made everything much easier," Minesinger said.
The first breakthrough: recognizing that the existing, vaguely "eclectic" front facade needed to firmly define itself — as classic colonial with distinctive early American accents.
"The architectural identity became fairly obvious once we sat down with Sun Design," Minesinger said. "Carolyn's interest in using stone nudged us in a style direction that really fits the setting. In fact, you can still see this kind of stone work in historical homes nearby — especially as you head west into hill country."
Thus, the spindly porch supports have been replaced by sturdier columns with a more stately profile. Porch railings are now period-specific. Decorative entablature crown each window.
At ground level, cultured stone cladding graces the exposed lower level, the new porch support piers and the chimneys. A second chimney has been added to the front facade, an architectural salute to Virginia's classic Georgians. Likewise, new siding — in tan and khaki with bright white trim — accentuates the new facade's textured warmth.
Meanwhile, on the rear elevation, Sun Design developed a distinctive indoor/outdoor plan purposed to multi-generational requirements.
And that works. The three children are now teens. Clever "zoning" solutions confer both the privacy and easy interaction needed to satisfy the family's varied, and foreseeable, needs
"The patio room evolved logically," Minesinger said. "It's directly linked to the dining room; a great spot to take in the view ... without getting your feet wet."
Still, the room is, by definition, "transitional" to the outdoor experience. Though it's over 400 square feet, there was no corresponding modification to the home's HVAC system. Instead, the design calls for two-ply insulated glass on three-sides, and features a floor-to-ceiling stone fireplace.
"The enclosure stays really comfortable without any additional heating or cooling support," Minesinger said, referring to the spaciously open addition as "a second family room."
Overhead, a private balcony linked to the master bedroom suite gives the adult Minesingers a quiet treetop perch from which to take it all in.
Exiting the patio room through French doors, the open-air plan unfolds as a series of terraced activity zones: a 12-by-16-foot deck; a cozy covered porch cooled by a pair of overhead rotating fans.
Both structures, in turn, segue along their respective low-rise staircases to a flagstone patio where the family generally gathers to enjoy grilling and warm weather dining.
Rounding out the picture: a 1196-square-foot two-level outbuilding created to shelter Minesinger's collection of vintage 1970s Cadillacs.
As with every other aspect of the project, the design called for carefully scaling-back the new structure's mass, concentrating on architecturally sympathetic rooflines and elevations.
It all marries beautifully. Opportunity realized.