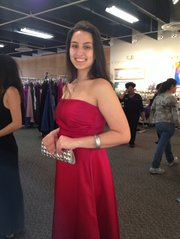 If you needed a dress for prom, accessories to match and, of course, the all-important shoes, Reston Community Center at Lake Anne was the place to be last Saturday, April 6.
It's almost prom time, so the girls were out in force picking from the hundreds of dresses that were made available at the Diva Central Prom Dress Giveaway. Co-chair for Diva Central and representative from Delta Sigma Theta, Brandi Johnson said, "We are the Fairfax County alumni chapter of the Delta Sigma Theta sorority and we help provide prom dresses for girls. Everything is free and they get everything from accessories, dresses and shoes. All the dresses are donated—we collect them all year long and the sorority girls add dresses.
SOME GIRLS return their dresses from last year too. Right now we are at capacity, so we are trying to purge some.
"The girls come from schools all over the area. In previous years we even had a bus that came from Maryland, bringing girls in from different high schools," she said.
Melissa Higgins came from Hyattsville, Md., with her mom and her sister for the event. A senior at Eleanor Roosevelt High School, Higgins found her complete prom look that included a red dress, silver shoes and costume jewelry, all with the assistance of the Delta Sigma Theta personal shoppers. "I think it's like a scholarship for the girls," said her mother, Raquel Higgins.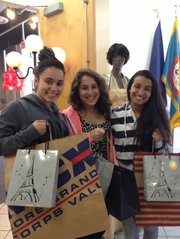 But Higgins almost didn't make it to the event after getting lost and having to return home disappointed. "We were supposed to get here at noon and we got here around 1:30 p.m.," said her mother. It was Higgins' father who drove her to the event to ensure his daughter was able to choose from the hundreds of dresses that were being given away that day.
Juniors from South Lakes High School in Reston Megan DeSisti, Rebecca Malaret and Allison Pulgarin also came to pick out dresses, accessories and shoes for the upcoming prom season.
"We all got dresses, accessories and gift bags," said DeSisti.
ASKED WHY they decided to come to the event DeSisti said, "I had a lot of friends who got their dresses from here last year and they were so beautiful."
Kenny Burrowes, Reston Community Center director of teen programs, said, "We had a bubbling cider champagne toast earlier, and raffles all throughout the day. We do promotional work [for the event], plus my assistant and me went to all the local high schools last week to spread the word. We also had Mix 103 donate some airtime.
"I've never turned down anyone for a dress. There's no way to say you deserve a dress, and you don't deserve a dress. We just see it as serving the community. The girls can save the money on a dress and spend it on dinner," Burrowes said.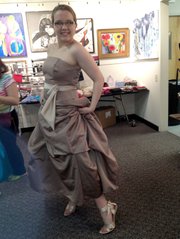 Catherine La Valley, senior at South Lakes High School, said of the event, "We, as a family, have always known about it and know it's a very good organization. We just loved what they did last year with it. Even if we are not necessarily going to prom, I use it for everything because I'm an actress and I have things I have to go to where I have to wear formal dress. It's such a nice thing to be able to have. They do a phenomenal job and they make it so accessible for everyone. I have friends and they couldn't even dream about affording a dress in a thousand years, but if they can come here, they can get everything. It's just great to have options for people."