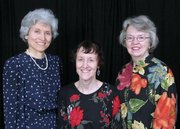 At the FISH (Friendly, Instant, Sympathetic Help) Fling Gala and Fundraiser, Reston and Herndon's "Star Fish" will be honored. The Star Fish are women whose volunteer work enables the volunteer, non-sectarian, non-profit to meet needs like requests for rent, transportation to medical appointments, help with furniture, utilities, medical items (including prescriptions) and other short term emergency needs.
FISH, which works closely with social workers from Fairfax County, local hospitals and other nonprofit organizations, gets much of their funding from the gala, scheduled this year for Saturday, April 20, at the Crowne Plaza Dulles Hotel in Herndon.
The women to become Star Fish are:
Claire Dessart, a Bargain Loft volunteer since 2009, who works two to three regular shifts per week and is always willing to come in as a sub, even at the last minute. She loves working for FISH and encourages everyone to shop at The Bargain Loft.

Kay Walter, who volunteers for the FISH Family Assistance Program and also drives people to their medical appointments. She has volunteered for FISH for five years and is always ready to help whenever called by the program coordinators. Kay says, "FISH is a perfect volunteer opportunity for me because I can do my phone assistance from home." She likes that FISH provides a unique service: Friendly, Instant, Sympathetic Help for neighbors in need.

Peggy LeReche has also been a volunteer for five years and currently serves on the Board of Directors. She also coordinates the FISH Financial Workshops. Peggy's mother volunteered years ago at The Bargain Loft, and her volunteer work at FISH helps Peggy continue her mother's legacy. Even though Peggy works full time for Dominion Power, she finds time to help neighbors in need.
The FISH Fling is open to the community, and welcomes local residents and organizations to support the event through purchasing tickets to the event or becoming a sponsor. For more information or reservations for this year's eighth annual FISH Fling, email FISH at FISH@HerndonRestonFISH.org or visit their website, www.herndonrestonfish.org.