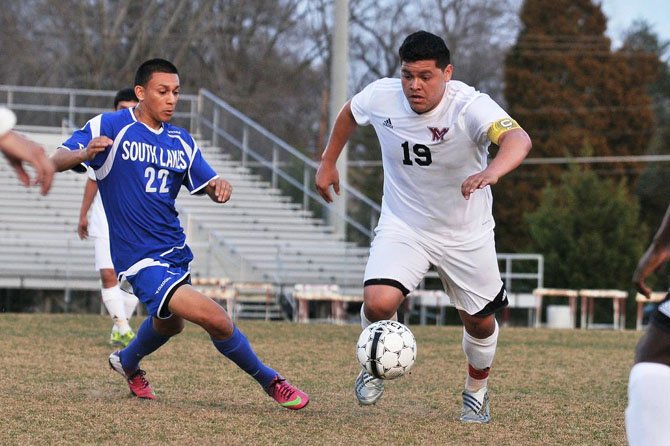 Mount Vernon — After opening the season with a loss to T.C. Williams on March 14, South Lakes boys' soccer coach Marty Pfister said the Seahawks needed to regain the team unity they had during a winning 2012 campaign.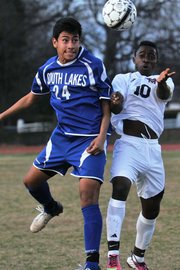 On Monday night, senior captain Elvin Arbaiza said the Seahawks are learning to play with one another. While South Lakes might be a work in progress, it didn't stop the Seahawks from capturing a fifth-consecutive victory.
South Lakes improved to 5-1 with a 1-0 win against the Majors on Monday at Mount Vernon High School. Junior striker Jhonny DeSouza scored the Seahawks' lone goal with a header off a corner kick from Arbaiza in the 37th minute.
"All of our set plays on corners, we try to get Jhonny involved," Pfister said. "He's about 6'-2", 6'-3" [and] really good in the air."
After losing to TC 2-0 South Lakes won five straight one-goal decisions. The Seahawks beat Lee (1-0), Herndon (2-1), Edison (3-2) and Falls Church (1-0) prior to defeating the Majors.
"It was a tough game, it was physical and we did what we needed to do to get the W. …" Arbaiza said. "Every game we're learning. It's a young team; we lost a lot of seniors last year, so we're learning how to play with each other …"
Last season, South Lakes finished 7-6-4, including a 3-1-3 mark during the Liberty District regular season—the Seahawks' best district record under Pfister, who is in his fifth season as head coach. South Lakes reached the district tournament semifinals and beat Herndon in the first round of the Northern Region tournament before falling to Lake Braddock in the quarterfinals. This year, South Lakes opens district play against Stone Bridge at 7 p.m. today. The Seahawks will host Marshall at 7 p.m. on Thursday, April 11.
"We kind of came on the scene last year in league play," Pfister said. "We look forward to it. We want to represent our district. … We had our best district record last year and we just want to capitalize on that."