Virginia will be in bloom later this month when more than 250 of the state's picturesque gardens, homes and historic landmarks open to the public for Historic Garden Week. The statewide event, which is in its 80th year and runs April 20-27, includes sites in the City of Alexandria and Fairfax County.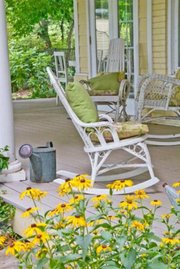 "Virginia is especially beautiful during Historic Garden Week," said Lynn McCashin, executive director of the Garden Club of Virginia, which sponsors the statewide house and garden tour. "Every year is different, and this one is extra special because of the anniversary."
Karen Cauthen Miller, Historic Garden Week state director, says the event will feature approximately 32 separate tours throughout the Commonwealth of Virginia. The event raises money to restore and preserve Virginia's historic landmarks.
"Historic Garden Week has transformed the landscape of Virginia over its 80-year history. It's really an incredible accomplishment," said Miller. "One-hundred percent of proceeds go to the restoration and preservation of the state's most important public properties. The list is a who's who of any place your kids would visit on a school fieldtrip. We restored the Bowling Green at Mount Vernon with funding from the Historic Garden Week, for example."
Miller added that Historic Garden Week is the largest ongoing volunteer effort in Virginia and is put on by 3,400 volunteers who work year-round.
"The restorations are of such a scale that they require the combined efforts of all 47 clubs that make up the Garden Club of Virginia. In Northern Virginia alone, the projects that have benefited from Historic Garden Week include Mount Vernon and Green Springs, the state's only Beatrix Farrand garden," said Anne Geddy Cross, chairwoman of Historic Garden Week.
There are 78 special events throughout the commonwealth of Virginia planned during the weeklong celebration. In Alexandria, for example, those who purchase tickets to the Old Town Alexandria tour will also have admission fees to George Washington's Mount Vernon Estate and Gardens waived on April 20.
Ticket prices for Historic Garden Week vary. For a tour schedule and ticket information, visit HYPERLINK "http://www.vagardenweek.org" www.vagardenweek.org.