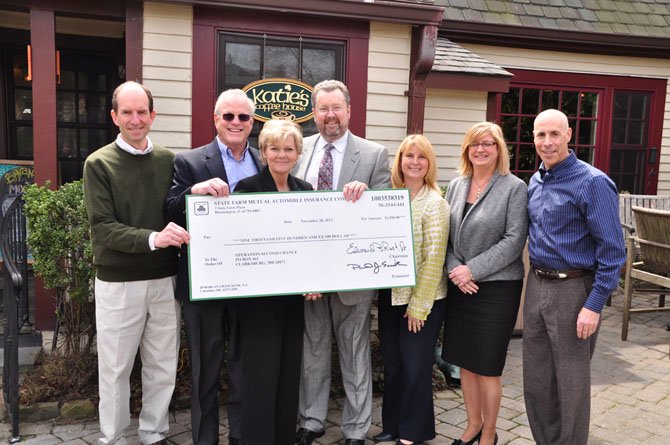 Great Falls — Members of the State Farm branch in Great Falls presented a check for $1,500 to Operation Second Chance, a charity that provides for injured service members and their families, Thursday, April 4. The funds were raised at a recent Military Appreciation Monday, a monthly fundraising dinner at The Old Brogue to benefit military charities. 
"We've been supporting Military Appreciation Mondays for the past five years because we believe in doing our part," said Stephen Dulaney, a State Farm agent. "Operation Second Chance does a lot to help combat veterans to get back on their feet." 
Cindy McGrew founded Operation Second Chance in March 2005 after visiting veterans at Walter Reed Army Medical Center. They currently arrange visits to soldiers and Marines while they receive care there, and provide support when they move on. 
"The events are always filled with such wonderful energy and enthusiasm, it's contagious," she said. "Operation Second Chance is here to assist these service members from everything to travel and mortgage expenses if needed, to little everyday things such as diapers and groceries. We're committed to doing anything we can to make their lives easier." 
Operation Second Chance was the beneficiary of the second ever Military Appreciation Monday. Bob Nelson, a local realtor who started the monthly dinners five years ago, said it was one of the causes that attracted him to the events in the first place. 
"Supporting soldiers returning from combat is one of our most important missions, and Operation Second Chance does that very well," Nelson said. "That's why they were one of the first organizations I contacted when we began these dinners." 
The next Military Appreciation Monday will be May 13, and the second Monday of every following month. May's event will benefit ThanksUSA, which provides scholarships to children of fallen service members. 
Seatings are at 5:30 and 7:30 p.m., and reservations can be made by calling The Old Brogue at 703-759-3309.