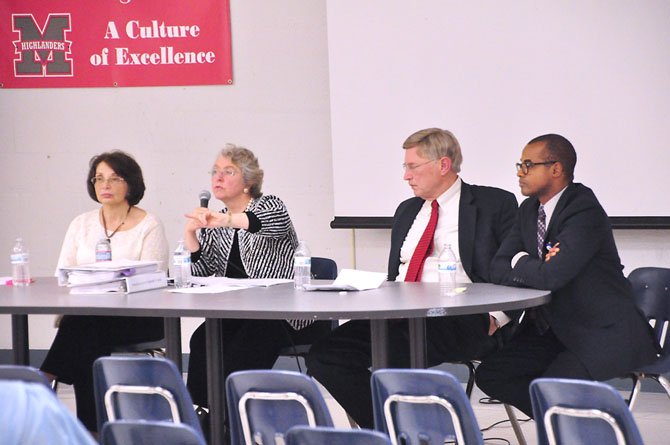 McLean — Parents from around the McLean and Langley High School pyramids gathered at McLean High Monday, April 8, to participate in an education forum hosted by the McLean Citizens Association. Supervisor John Foust (D-Dranesville), Dranesville district school board representative Janie Strauss and Cluster I Assistant Superintendent Marty Smith spoke to parents about the current and future states of Fairfax County Public Schools. 
The schools will have a $2.5 billion operating budget as currently proposed for FY2014, a 2.7 percent increase over the FY2013 budget. With a projection of 184,393 students in FY2014, that averages out to $13,680 per pupil. 
"Student populations are continuing to increase. Our projections are, by the beginning of next year, we'll have 15,000 more kids than we did at the beginning of the recession," Strauss said. "That's the equivalent of six or seven high schools or 15 elementary schools." 
Foust said that making sure the schools are properly funded is one of the board's top priorities.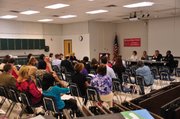 "We know keeping the schools at a top level is the right thing to do for the kids, but it's also the best thing we can possibly do for our local economy," Foust said. "The Economic Development Authority sells our public schools as their product. That's why people come here." 
Strauss said the school is in the process of putting together a bond referendum for the fall, which will include money for many McLeanarea school renovations. 
"The renovation money for Langley High School will be there, the rest of the money for Haycock Elementary School, money for Forestville Elementary will be on the bond," she said. "We are in the process of putting out the construction contract for Thomas Jefferson. That bond money is there and we have advertised the contract. There will be many large construction projects going on next year involving the schools on this end of the county." 
Strauss added that all new buildings will be constructed in such a way that they can be renovated from the interior before any new construction takes place. She also said that, along with the Fairfax County Board of Supervisors, the School Board is planning for more urban-style schools, with the first example being the new school that will be built in Tysons Corner. 
CLASS SIZE in McLean-area schools was one of the chief concerns of parents at the meeting. The average class size for all FCPS elementary schools is 22.2 for kindergarten, 21.3 for first through third grade, 22.5 for fourth through sixth grade and 21.9 overall. Most McLean schools exceed that by several students. Chesterbook Elementary has an average size of 25.9, Churchill Road is 25, Colvin Run is 25.9, Franklin Sherman is 23.9, Haycock and Kent Gardens are at 24 and Spring Hill is at 25.7. 
"We haven't had money to go back and undo the increases in class size, I think we can all agree it's optimal to be somewhere in the 21 to 22 range," Strauss said. "It's going to be about $23 million to lower those class sizes, and we just don't have that." 
The Federal Government provides $18.5 million to reduce class size in 38 county elementary schools with low income students, and the state chips in another $4.2 million to reduce kindergarten through third grade. 
"I know there are many schools in the county that serve low income students and it's important to give those students opportunities to learn, but it's hard not to feel shortchanged when you see how our numbers stack up to just the county's averages," said Kevin Jones, a parent from McLean. "If we're way above the average then a lot of schools are probably below the average, and I'd like to see us get close to that median size."