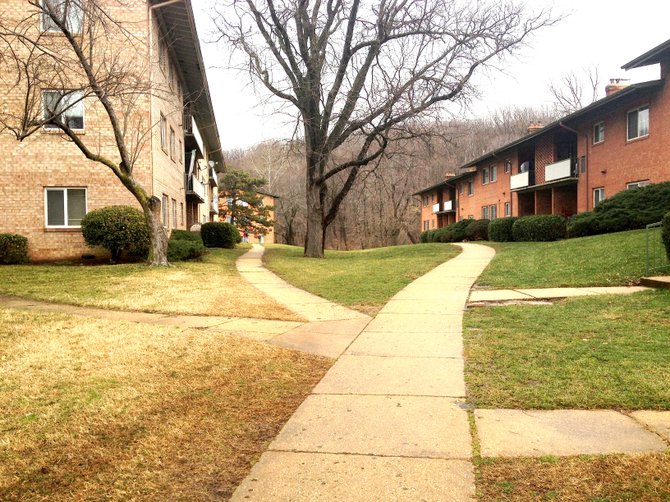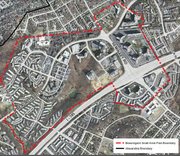 On the windswept streets of the city's West End, many poor and Latino residents say they are living with a sense of uncertainty. City leaders are considering a plan that would demolish 2,500 units of low-end garden apartments and construct 6,500 units of luxury housing. Supporters of the plan say the plan includes 800 units of dedicated affordable housing, but residents who live here now say they don't know what will happen.
"We might move in with local relatives in Fairfax, but it's totally unknown to us right now," said Rodolfo Navorio, a senior at T.C. Williams High School. "I try not to let it bother me, personally, but when the time comes, I'll have to deal with it."
Earlier this month, members of the Alexandria Planning Commission approved the upzoning, although they added an amendment that City Council members will consider when they vote on the issue today. Instead of delivering the units slowly over a 20-year period, new member Derek Hyra suggested that all 800 of the dedicated units be delivered in the first decade of redevelopment — a way he says would minimize displacement of the thousands of families who live there now.
"We don't want the old urban renewal," said Hyra. "We want this to be considered new urban renewal."
CRITICS OF THE PLAN wore pajamas to the late-night Planning Commission meeting, an indication they were willing to stay as long as necessary to advocate for the families who live there now. They were right that it was going to be a long night, with a vote that took place after midnight. Speaker after speaker said city officials should delay the plan until more accommodations could be made for the thousands of families who are now living with uncertainty.
"Let's show them that we heard them," said Planning Commission member Mary Lyman. "And that we are at least trying to come up with some ideas to make it better."
But when Hyra suggested that commissioners consider adding 100 additional units of affordable housing, a majority of the members rejected the idea. They said that the small-area plan had already been considered and adopted, including a carefully balanced financial plan for how the affordable units would be financed.
"It's not that I didn't hear them, and my heart strings were tugged at," said Planning Commission member Eric Wagner. "But there is no other plan that we've developed that puts this kind of money for affordable housing."
THE ZONING PLAN now before City Council members includes $167 million for affordable housing, a feature that supporters say makes the Beauregard plan a historic addition to the supply of dedicated units in the region. About $52 million of that will come from developer contributions, with the rest coming from tax-increment funding. Planning Commission members said that if they failed to approve the deal, those units would not be available and market forces would displace residents.
"If we don't act," explained chairman John Komoroske, "we lose those units."
Many residents who live in the apartments now say the promise of 800 units in the future is small consolation for people who live in 2,500 units today. They worry that they might not be one of the lucky few who gets selected to live in the units, which will be a fraction of the market-rate affordable housing units there today. Many residents say the stress of an uncertain future lingers over their days, a phenomenon that several suggested that City Council members consider as they take up the issue
"Let the stress kick in of having to find a place to live, of relocating their kids, of having a longer commute to work," said Alex Santiago, who has three children in the public school system. "Have them stress about it as much as me and my family are stressing about it."
CITY OFFICIALS say the redevelopment will unfold in phases over three decades, a long-term plan that includes a new town center and a transit corridor. Developers expect to break ground in 2014, when the first phase of demolition and construction will begin. The deal now under consideration would have developers contribute $52 million for affordable housing, $28 million for a traffic ellipse, $23 million for a transitway, $18 million for donated land and $10 million for a fire station. An attorney representing developer JBG said the phasing plan will allow many of the families to stay where they are during the construction.
"There will be many, many apartments that remain in place over time," said Kathy Puskar, a land-use attorney who represents the developers interested in redeveloping the properties. "So the first phase is not tearing down all 2,500 units."
The original plan called for the first 47 units of dedicated affordable housing to be delivered in 2014, with half of the units more than a decade away. Now that Planning Commission members have suggested an accelerated timetable, those units may be available sooner if City Council members agree. Until then, many of the residents of this working class neighborhood say they want to find a way to stay in a neighborhood they have come to call home
"I feel very sad because I live for 16 years here," said Milagros Navorio. "I want to stay here for my family."