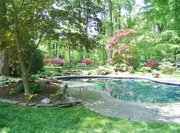 The Woman's Club of McLean is in the final stages of preparing for the community's first-ever Kitchen and Garden Tour, planned for Wednesday, May 1 (rain date: May 2), from 10 a.m. to 3 p.m. A formal "kickoff" will take place at Holyrood Drive and Countryside Court in west McLean at 10 a.m., near the six large homes that will open their kitchens and extensive gardens for the tour. Tickets will be available on the tour day for $30 at any of the houses; before May 1 they can be purchased for $25 at Flowers and Plants, Etc., 1378 Chain Bridge Road in McLean; Karin's Florist, 527 Maple Ave. E., in Vienna; Great Dogs of Great Falls, 9859 Georgetown Pike; and Vinson Hall Retirement Community, 6521 Old Dominion Drive in McLean.
ALL PROCEEDS of the tour will go to Vinson Hall's Wounded Warrior Transitional Housing Project, which is supported by the Navy Marine Coast Guard Residence Foundation (NMCGRF; www.nmcgrf.org). According to the foundation's executive director, Rear Admiral (Ret.) Kathleen L. Martin, "The vision for this program was established in 2011, with a plan to help young, wounded veterans who have returned home from conflict requiring a special kind of care in an environment that is well suited to their unique needs." Handicap-accessible apartments are currently being renovated for veterans who have been discharged from inpatient care at Walter Reed Medical Center. With its population of some 200 military officers and government employees is a community "where older warriors can mentor younger warriors by providing a listening ear and words of encouragement," said Vinson Hall Adm. Martin. The average age of the wounded service members, according to the foundation, is 22-35, with most in their twenties needing transitional housing.
Each tour ticket consists of a guide booklet with directions to the six houses, which are on 1-acre lots and are within close walking distance of each other. Visitors may begin the tour at any of the homes. Ample street parking is nearby. After entering the home, they will pass through the kitchen before exiting into the garden. Many of the large kitchens have recently been redesigned and updated. The booklet describes these and also details each home's plantings and landscaping, which include such amenities as arbors, winding paths, decks, patios and large and small pools. Visitors will find a huge variety of flowers, shrubs and trees, ranging from "exotic" species to those native to Virginia. Some landscapes are reminiscent of English gardens; one property contains a pond area with lily pads inspired by the famous garden of the French artist Monet. There are 100-year-old tulip poplar trees and recent variations of universally popular flowers, such as the 29 varieties of roses growing in one garden.
THE TOUR NEIGHBORHOOD, known as Countryside Estates, can be reached by taking Old Dominion Drive from central McLean toward Balls Hill Road, bearing right, crossing Georgetown Pike and then taking the second right, Holyrood Drive. The intersection of Balls Hill Road with Georgetown Pike is near Exit 44 of the Beltway.
For more information, call the Woman's Club at 703-556-0197 or send an e-mail to sheridan2@cox.net.