A Marymount University professor was honored recently for her work to educate and train school counselors.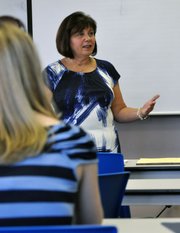 The Virginia School Counselor Association (VSCA) recently named Michele C. Garofalo, Ed.D, of Marymount University in Arlington, the 2013 VSCA Counselor Educator of the Year. Garofalo, a McLean resident, who holds a doctorate in education and is also a licensed professional counselor and national certified counselor, is the assistant chair of the Department of Counseling, director of the school counseling program and a professor of psychology.
When choosing a recipient, members of the Virginia School Counselor Association consider dedication to the training of school counselors and extensive contributions to the field of school counseling.
"I am honored and deeply touched by this award. It … is truly one of the highlights of my professional career," said Garofalo, who has worked as a school counselor at both independent and public schools. "It is energizing for me to help support and mentor those who are pursuing a career path as a school counselor. It is truly a gift for me to have the opportunity to work with such amazing students who are dedicated to making a difference."
"I hope that my teaching and mentoring have helped to prepare school counselors who go out and make a difference for students in schools."
— Michele C. Garofalo, Ed.D.
Garofalo, who has taught at Marymount for 18 years, designed the university's master of arts in school counseling program. Her colleagues say her influence is far-reaching.
"All the programs in the Department of Counseling have benefited from the … efforts of Dr. Garofalo," said Department Chair Lisa Jackson-Cherry. "She is passionate about teaching future school counselors who will impact the lives of children and families. She expects a high level of ethics and professionalism [and] she leads by example."
Associates credit Garofalo with creating school counseling-specific courses and bringing guest speakers, who are leaders in the field, into her classroom. She also founded the Mu Upsilon Gamma chapter of the Chi Sigma Iota Counseling Honor Society at Marymount.
"Dr. Garofalo has enhanced my graduate career in the biggest way possible, said Daisy Silva, a school counseling student at Marymount. "She allowed me space to grow as a counselor by going out of her way and setting up opportunities [for me] to see for myself if the career was right for me."
Garofalo, who also has a private practice, said she encourages school counseling students do community outreach work. "I hope that my teaching and mentoring have helped to prepare school counselors who go out and make a difference for students in schools," she said. "The greatest gift for me is to know that I have played some small part in the preparation of accomplished professionals who make a difference for the students and everyone in the school community."