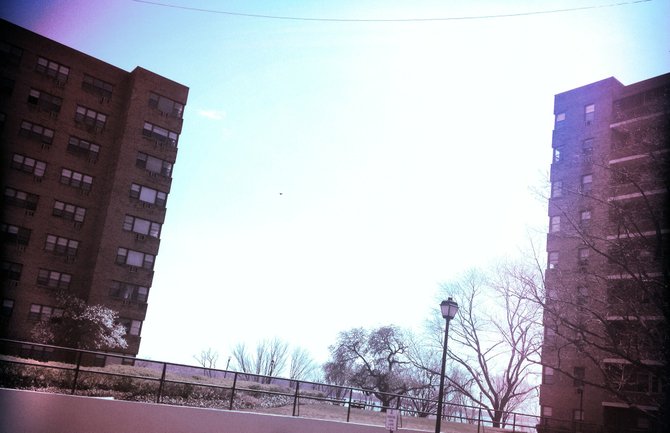 For years, people who live in the twin towers at the southern edge of Old Town have lived with a sense of dread. That's because their landlord is the Virginia Department of Transportation, which purchased the buildings during construction of the Woodrow Wilson Bridge. VDOT initially purchased three towers back in 2002 and demolished the northernmost one to make room for the southern span. Ever since then, Olga Calahorra has worried that the new owner would purchase the buildings and raise rents.
"My future? I don't know," said Calahorra while waiting for a bus to see the cherry blossoms one recent afternoon. "We don't know how much they are going to raise the rent."
Last week, Chicago-based Laramar Group finalized the sale of Hunting Towers for $81 million. The sale marks the beginning of an era for residents of this moderately priced community, which is one of the last remaining market-rate affordable housing opportunities in the region. City officials say they have received assurances from Laramar that the towers will be preserved as affordable housing — at least for now.
"Obviously at some point six months or a year from now they can change their mind," said Mayor Bill Euille. "But initially out of the gate, they are saying they want to preserve this as affordable and rental — no condos, no demolition."
THE STORY OF HUNTING TOWERS stretches back to the earliest days of the city, when the area where the towers now stand was known as Broomilawn Point — a pleasure garden in the early 19th century owned by Mayor Robert Hooe. The area was briefly used as a quarantine area during a smallpox epidemic. A brickyard was constructed on the site in 1884 and remained in operation until it was destroyed by fire in 1919. Hunting Towers was built in 1950 with solid construction that city officials say stands in the way of major upgrades.
"You can't put more bathrooms. You can't do washers and dryers. You cannot do central air. They have wall units," explained Deputy City Manager Mark Jinks last year. "It proves great housing for the people who are there, but it's very limited as far as making it class A."
The site is currently zoned RC, High Density Apartment, permitting up to 54.45 dwelling units per acre and a floor area ration of 1.25. Since VDOT purchased the towers more than a decade ago, a number of developers have expressed an interest in converting the apartments to condominiums. Last year, the towers were put on the market and residents began to worry about their future.
"People on fixed incomes and the elderly make up a good portion of the building and, you know, add a lot of flavor and color to Old Town," said Rob Alderman, a 10-year resident, taking break from sunbathing on the lawn this week. "And we're afraid they would be pushed out of here."