Photo Gallery
Parkway Classic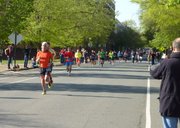 Pictures from the GW Parkway Classic
Click Photo for Flash
Alexandria — In the wake of the recent terror attacks at the Boston Marathon, security was stepped up April 21 as more than 6,000 runners took to the streets of Alexandria in the 29th annual GW Parkway Classic.
"I definitely felt safe," said race veteran Courtney Brown. "I had no concerns at all about running the race."
SWAT teams, K-9 patrols and a Mobil Command Unit were dispatched along the 10-mile course, which began at Mount Vernon and ended in Old Town at Oronoco Bay Park.
A moment of silence was observed at the start of the race to remember the victims of the Boston attacks. Additionally, the last mile of the race was lined with first responders in honor of wounded Alexandria police officer Peter Laboy, who was shot in the head during a routine traffic stop Feb. 27.
"I definitely noticed a lot more police dogs and security this year," said Ronnette Thompson. "But it was a beautiful day for the race and the supporters along the course were amazing."
No incidents were reported at the race, which was won by Charlottesville resident Seth Hutchinson, 29, with a time of 50:56. Arlington's Shannon Miller, 28, was the top female finisher at 1:01:05. In the 5K race, John Schroeder, 25, (16:32) and Claire Hallisey, 30, (17:40) were the top male and female finishers.
"I definitely felt safe. I had no concerns at all about running the race."
— Courtney Brown
In addition to the increased security, trash cans along the route were sealed and a "no spectator zone" was established at the finish line. Many runners and spectators wore Boston colors and sporting gear and memorial blue and yellow ribbons.
Top Alexandria finishers in Sunday's race included Bishop Ireton Cross Country coach Brad Byrnes, 33, who finished second in the men's 5K race with a time of 17:58. Third place went to BI junior Michael LoGrande, 16, with a time of 18:11.
In the 10-mile race, Alexandria's top female finishers were Laura O'Hara, 33, who finished second overall with a time of 1:02:33, and Lisa Thomas, 32, who finished fourth in 1:04:05. Nine-year-old Anna Banovc finished first in the 10 and under category and Tiffany Carter, 13, took first in the 11-14 age group.
Sponsored by Pacers Running stores, the race served as the host for the BAE Systems MacArthur Cup, a team competition for active duty military personnel, and was a benefit for the Boys & Girls Club of Alexandria.
For complete race results, visit www.runpacers.com.