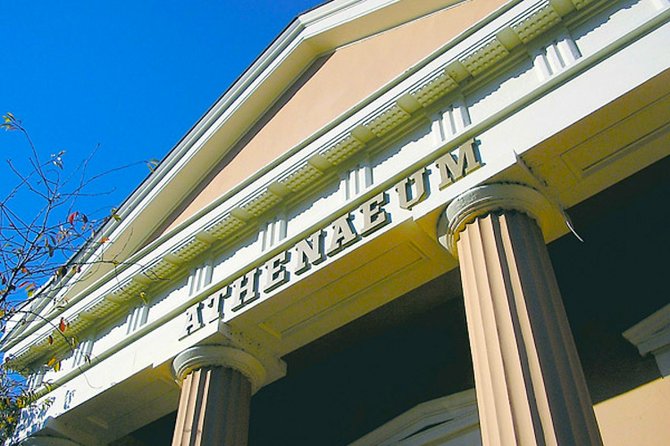 How to Vote
https://www.prese...">Click here to cast your vote in the Partners in Preservation online competition, a project funded by American Express and organized by the National Trust for Historic Preservation.
Do you love the Athenaeum? If the answer is yes, executive director Catherine Aselford is asking for your vote.
This week, American Express and the National Trust for Historic Preservation announced that the Athenaeum has been selected as one of 24 sites in the Washington Metropolitan area to compete for $1 million in preservation funds in a grant program known as Partners in Preservation.
"Please spread the word," implores Aselford. "Retweet our tweets. Share our Facebook posts."
Next Sunday, May 5, the Athenaeum will be having an open house with a handful of local celebrities. Visitors can see the building and learn about the history of the iconic structure, which was originally built in 1851 as the Old Dominion Bank. Its stately Greek columns have graced the corner of Prince and South Lee for more than 150 years, as the use of the building changed from a bank to a storage facility to a church. Since 1964, the building has been owned and operated by the Northern Virginia Fine Arts Association.
"A vote for the Athenaeum is a vote for Alexandria," said Aselford.
Competition is fierce. Although the Athenaeum is the only Alexandria site on the list, other sites in the competition include some of the biggest and most well known Washington landmarks. Aselford said she's hoping the money could be used to restore the cracked and peeling stucco facade.
Those interested can vote online at partnersinpreservation.com. Participants can vote daily through May 10. Aselford says that means Alexandrians should vote early and often.