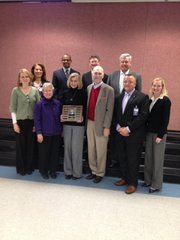 Barbara Gist, assistant principal of Aldrin Elementary in Reston, was selected as Virginia's 2013 National Outstanding Assistant Principal of the Year (NOAP). The 2013 award marks the second year that the National Association of Elementary School Principals (NAESP), in collaboration with the Virginia Association of Elementary School Principals (VAESP), has presented this award. The NOAP program promotes educational excellence for pre-kindergarten through eighth grade schooling and calls attention to the fundamental importance of the assistant principal in every school. The National Outstanding Assistant Principal program is made possible through the NAESP Foundation.
Gist received her award in a surprise presentation in front of all community members, school staff and her family on Tuesday, April 23. In attendance to honor Gist were: school board members Jane Strauss (Dranesville District) and Pat Hynes (Hunter Mill District), Fairfax County Public Schools Superintendent Dr. Jack Dale, Cluster 1 Assistant Superintendent Marty Smith, Cluster 1 Director Anita Taylor, Aldrin Principal Shane Wolfe, Aldrin PTA President Kim Gilbreath, Hutchison Elementary Principal and Potomac Zone Director Judy Baldwin and VAESP Executive Director Jim Baldwin.
Gist was nominated and selected through a statewide search process conducted by VAESP. She holds degrees from the University of Virginia, Marymount University, Stanford University and Loyola University. She has served as assistant principal of Aldrin Elementary for seven years. Prior to her current assignment, she served as an AP Intern and as a general education and gifted and talented teacher since 1999. This summer, Gist will be honored at the Annual VAESP Conference in Hot Springs, Va.
Gist is actively involved in her school, her division and her community. She has been honored with the FCPS Bright Start Award and the Outstanding First Year Teacher Award. She is recognized as the founder of such school programs as Children and Teachers Talking (CHATT), Summer of Awesome Reading (SOAR), Eagle Time, Math Double Dose Program, Weekend Food Program, Book Club, Cluster AP Mentoring Program and Teachers Teaching Teachers.