ArtSpace Herndon held an artists reception for the annual Fine Art Photography Exhibit, featuring the finalists of the 2013 Fine Art Photography Competition Saturday night, April 27. The photos of 35 regional photographers are showcased in this display.
The finalists were selected by juror Barry Schmetter, a Washington D.C.-based photographer, teacher and event director for Artomatic 2012. Cash awards for first, second and third place were announced during the reception.
"The diversity of the photography just blew me away when I walked in here," said exhibiting photographer Sandra Blake. Blake also participated in the competition last year. This year there was an increase in the number of submitted photo pieces.
Now residing in North Carolina, Blake previously resided in the town of Herndon. Blake's photo, "Captured by the Light," was taken in Maryland at the last standing silt mill in the US. "It was taken in October 2012 just before I moved."
John Biddle and his daughter Joan Biddle also participated in this year's exhibit and have their photos on display. Mr. Biddle has found photography an enjoyable pastime in his retirement. "I've done straight lines and straight corners all my life, so this is interesting!"
Later Schmetter announced the winning competitors and honorable mentions.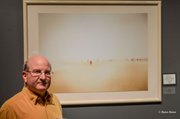 Third place was awarded to photographer Dave B. Stovall for his photo "Ocean City, Maryland."
"This was taken back in October on a vacation," said Stovall. "I shot this with a view camera and color transparency. I saw this [location] the previous day and came back at five in the morning and shot it."
Second place was given to photographer Rahshia Linendoll-Sawyern for her photo "We Are Not Made of Wood." First place was awarded to photographer Peter Toth for his photograph titled "Solitude."
"This is part of a series that I shot last year," said Toth. "I try to make each picture look like a painting. Some of my pictures are even more impressionistic. That one is one of a series of people walking on the beach, the sun is just coming up and the people were wearing bright colors. That just added to the impact."
Many of the works on display at the exhibit are available for purchase. The photos will continue to be on display until Sunday, May 26.