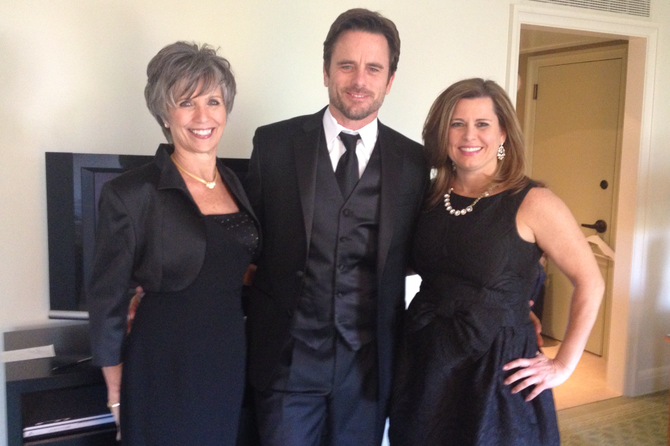 Charles "Chip" Esten, an Alexandria boy from age 8 who plays Deacon Claybourne on the ABC hit show "Nashville," likes to think of songwriting like it's farming. "I love the farming as much as I love the crops, I love doing it as much as what you get out of it," said Esten, speaking of his love for the writing process as much as the record deals and shows that it can yield.
The 47-year-old actor, comedian and singer-songwriter credits Alexandria, in part, for helping him fall in love with the city of Nashville, because of its "Virginia qualities."
Charles Esten Performing
Two hundred tickets are up for grabs to see Charles "Chip" Esten perform songs from the hit series as well as original songs he's written while living in Nashville, filming the ABC show of the same name and co-writing with other stars. The concert is from 6:30-9:30 p.m. at the Durant Arts Center, 1605 Cameron St., and benefits graduates of Esten's alma mater T.C. Williams via The Scholarship Fund of Alexandria. Tickets are $150 and include beer from Port City Brewing Company and a barbecue dinner. Snag tickets here: https://www.faceb....
"I honestly am one of those people where I don't look back with rose-colored glasses. [Alexandria] was that beautiful and it is that beautiful. It's always struck me that somebody that loves this town so much would leave it and go elsewhere. My mom raised us here, my sister and I, we have great, great memories."
Esten moved to Alexandria's Rosemont neighborhood in North View Terrace from Pittsburgh, Pa. with his sister Cathy and mother Cynthia following her divorce from Esten's father. His mother, deeply involved in the community and immediate past president of Inova Alexandria Hospital's founding group the Board of Lady Managers, raised him surrounded by family and friends. "It was pretty idyllic, after the divorce and all, everybody came in alongside. I got nothing but great memories," said Esten.
It's clear Esten was a fan of the area early on, since his song-writing debut as a third grader at Maury Elementary School when he won the school re-writing contest for changing the words of "It's a Small World (After All)," to "It's a great school after all."
"My early entry into songwriting was complete plagiarism," said Esten with a laugh.
Among young Esten's other early career moves were a clown show at Wolf Trap in Vienna, and a lead role as Joseph in an Episcopal Grace Church production of "Joseph and the Amazing Technicolor Dreamcoat."
Whether his early years primed Esten more for his comedic work on "Whose Line Is It Anyway?" or his dramatic roles, he's always kept a foot in both worlds.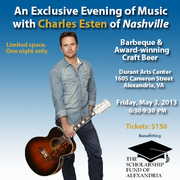 On his cross-genre work, Esten says he is equally comfortable. His work on "Nashville" "… is not really a transition, because all the time I was doing 'Whose Line' and doing live shows, the next day I'd go and do an episode of ER … those are the things I've been able to do for a while. Some days it would go one way or the other. I've always preferred when it goes back and forth and you can keep one foot in both worlds."
For Esten, "Nashville's"' emphasis on drama — not laughs — is not disappointing in the least. "I've never been like I need to do comedy or I need to do drama. I've just always wanted to do things that are real good and that stretched me. We're trying to make ["Nashville"] as human as possible, things that make you smile or laugh," said Esten.
Perhaps the aspect of "Nashville" truest to Esten's heart is neither laughs nor drama, but songwriting. The Alexandrian began writing early, in high school, making use of guitar lessons and the family piano. While at The College of William & Mary in the late '80s, he started up a band called N'est Pas with fellow fraternity brothers in Theta Delta Chi. At first, the band played covers, an eclectic mix of INXS, The Cure, The Police, U2, Tom Petty and REM. However, Esten soon began to experience the benefits of playing a newly-written song with bass and rhythm players in the room, seeing the song blossom into a fuller sound in a matter of minutes.
That's why playing, singing, writing and acting for "Nashville" is a dream come true for Esten. "Now that I'm in Nashville the thing that I'm loving the most is co-writing. You walk into the room and you shake hands with someone you've never met before and you walk out four hours later and you've got this thing … sharing ideas and everything, it's almost magical, like a miracle.
"That's the thing in Nashville is it's a writer's town, the Bluebird it's … people don't sit there playing covers."
Esten isn't as much focused on snagging his next dramatic role or starring in box-office hits as he is grounded in writing, playing and performing music. "That's the thing right now, that's the part I can really focus on and do is meeting all these people and writing these songs. It would seem a logical outcome that you can record."
"Now that I'm in Nashville the thing that I'm loving the most is co-writing. You walk into the room and you shake hands with someone you've never met before and you walk out four hours later and you've got this thing … sharing ideas and everything, it's almost magical, like a miracle."
— Charles "Chip" Esten of ABC's hit show "Nashville"
Though focused on music, Esten is not limiting himself to writing and recording. "I'm making the arrows to go back in my quiver," he said, expressing his openness to whatever comes next.
So, does that mean more musicals? Esten, after all, made his debut portraying Buddy Holly in the hit West End musical "Buddy" in London in 1991 and performed before the queen and eventually President George Bush.
"You know, it's so funny because looking ahead is… I guess I don't do as much of it as you might think or you might guess. One of the reasons is I feel so blessed right now, all these things that are happening right now just have me trying to live as much in the moment as possible. I've been trying to make sense of it, it's all so great that I'm trying to experience it and be present in it … It's like on 'Whose Line.' If you're thinking of the jokes that happened five minutes ago or that will happen in five minutes, you're in trouble. You just got to be present and be thankful."
Esten will be back in Alexandria on Friday, May 3, to perform at a concert at the Durant Arts Center from 6:30 to 9:30 p.m. for The Scholarship Fund of Alexandria, to benefit his alma mater T.C. Williams High School. His sister Cathy Puskar is chair of the board of trustees for the scholarship fund.
"It's going to be a special performance by Chip for 200 people. … People will actually get to talk to him and meet him, get autographs and pictures," said Puskar.
The night's goal is to raise over $25,000 to provide scholarship money for T.C. Williams graduates who need financial assistance to pay for college. Tickets to hear Charles Esten play are $150, and include barbecue and drinks from Port City Brewing Company. For more on the show, go to https://www.facebook.com/ScholarshipFundofAlexandria.
And what, exactly, can fans expect to hear — original songs as well as popular songs from "Nashville"? "That's exactly what it'll be," said Esten. "Mostly things I've written while I've been in Nashville."