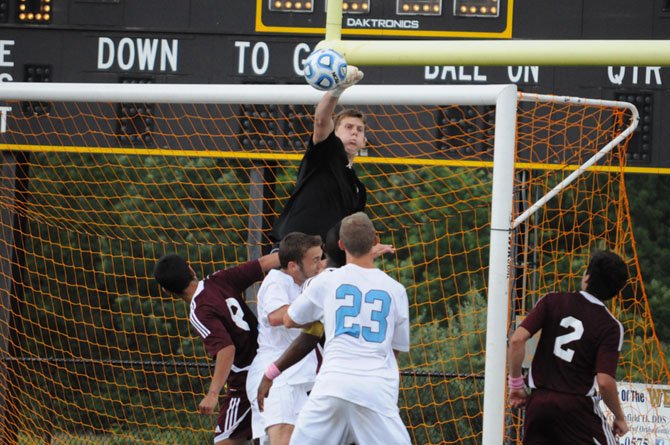 Lucas Belanger was a standout goalkeeper early in his time at Mount Vernon High School. But during his junior season, Belanger left the program to focus on preparing for soccer at the collegiate level. The Majors won the National District title in his absence, but lost in the Northern Region quarterfinals in a penalty-kick shootout against Robinson.
One year later, Belanger returned to the Majors late in the 2013 regular season. Then a senior, Belanger helped Mount Vernon close the year on a magical run that concluded with a state championship. The Majors won 11 of their final 12 matches, including a 6-1 victory against Hayfield in the National District championship game. Along the way, Belanger made a huge impact during penalty-kick shootout victories against T.C. Williams in the region quarterfinals, Forest Park in the state quarterfinals and Cosby in the state championship match.
Belanger will continue his soccer career at American University, where his sister, Charlene Belanger is a goalkeeper for the women's soccer team. Lucas Belanger recently participated in a Q and A with The Gazette via email.
*Gazette: What made American the right fit for you?
Belanger: Both the level of soccer as well as the location were the selling points for me. Very competitive Division I soccer, and close to home, but not so close at the same time.
*Gazette: What is your favorite memory of playing soccer at Mount Vernon?
Belanger: Has to be winning the state tournament. To hear about all the other big name schools that have won it during my other three years in high school and now for Mount Vernon to be on that list is incredible.
*Gazette: If you could go back and change one thing about your high school athletic career, what would it be?
Belanger: I really wish I had taken coach Tony Garza up on a bet where he said he could score 8 out of 10 shots on me. He had no chance!
*Gazette: At what age did you start playing soccer? At what age did you start playing goalkeeper? When did you realize playing college soccer was a possibility for you?
Belanger: I started playing soccer at age 4. I started to get some minutes in at goalkeeper around age 7. I had always dreamed about playing college soccer, but it became a possibility when I guest-played for a 19-year-old team at 15. They were all high school seniors on their way to various Division I soccer schools.
*Gazette: Your sister Charlene is a goalkeeper for the American women's soccer team. What role, if any, did that play in you choosing American?
Belanger: Her being there gave me the opportunity to become more familiar with both the academic and athletic programs at AU. In addition, me and my sister have always trained together and pushed each other to get better, and both of us going to American will help us to continue this tradition.
*Gazette: What are you most looking forward to about the transition from high school to college?
Belanger: I'm looking forward to the opportunity to play soccer at a higher level, as well furthering my education at AU.
*Gazette: Who is your favorite music artist? Why?
Belanger: My favorite band is SOJA. They're a reggae band from Washington, D.C. Listening to them is a good change from some of the meaningless lyrics you hear in more popular songs today. They make great songs with meaningful lyrics.
*Gazette: What's your favorite movie? Why?
Belanger: The Muppets Movie! Because who doesn't like the Muppets?
*Gazette: What's your favorite food?
Belanger: My favorite food would have to be mac and cheese.
*Gazette: What is your favorite hobby outside of soccer?
Belanger: I enjoy watching and playing other sports outside of soccer. It's a refreshing break from playing one sport all the time and it allows me to stay current on sports news.
*Gazette: What location is the farthest you've traveled from the Washington, D.C. metro area?
Belanger: I have traveled to Arizona a couple times to visit family, but I'm not a big traveler.
--- Jon Roetman