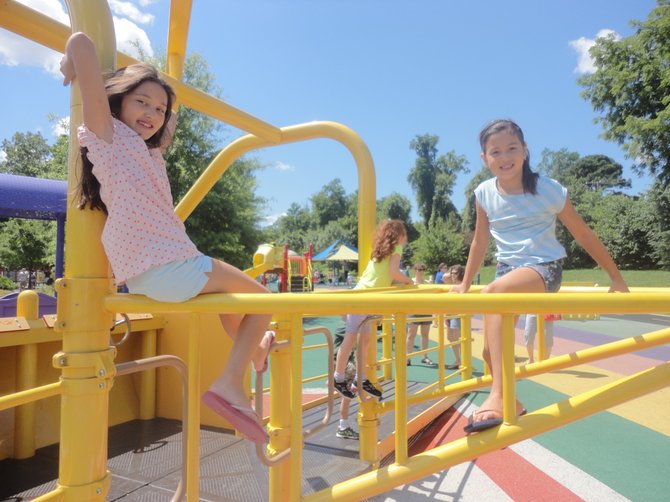 Photo Gallery
McLean Parks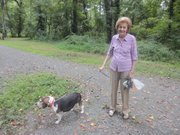 Click Photo for Flash
As McLean transitions into summer's latter half, residents relished August's first weekend at the town's various parks.
McLean Central Park, located at 1468 Dolley Madison Blvd., serves as a pleasing outdoor venue for McLean's Linda Mattingly who, while walking her dog Daisy, praised the park's "many trails, and that in the summer it's so shady. … They keep the park in beautiful shape, remove dead trees and cut overgrown grass." Beyond making daily visits to the park with her dog, Mattingly visits the park for family amusement. "I have small grandchildren and I take them over to the little play area."
Dean Berman of McLean also visited McLean Central Park with his own canine friend, Penny, and described the setting as "close and convenient." Berman considers other parks "kind of depressing" compared to the picturesque McLean Central Park, but suggested that the park "add a dog place with dog fountains."
McLean Central Park's range of walking paths is accompanied by a multipurpose gazebo which guests can reserve for private events.
Lewinsville Park, located at 1659 Chain Bridge Road, also offers convenience and versatility to local residents. As she walked her sons Xavier and Oliver to the park for a game of basketball, Brittany Howell said, "I live in central McLean, so [Lewinsville Park] is very close. It has a lot of green space, fields and courts. As a mother of two boys, it's helpful."
In addition to providing an accessible variety of recreational spaces, Lewinsville Park functions as a comfortable venue for athletic classes. "We come here for my son's [Saturday] soccer lessons … I like the location and the open fields," said McLean's Monica Whent as her son Lukas Muend kicked around a soccer ball. Despite Lewinsville Park's commendable features, Whent said, "It might be nice if it had a kids' playground."
Clemynjontri Park, located at 6317 Georgetown Pike, provides a famously safe play area for children with or without physical and sensory disabilities in the McLean area.
Yulia Goreva of McLean praised the park's safety while she enjoyed a sunny Sunday with her two children. "I like that [Clemynjontri Park] is accessible for smaller kids. The monkey bars are very low, so it's not scary for them, and there are many different toys for my 2-year-old son [Lev] to play with."
Also delighting in the playground's ease was Scarlet Steuble, 7, of Great Falls. "I like to go on the swings … the ground is soft, so it doesn't hurt when you fall." Sister Charlotte, 8, adds that "It's a lot bigger and it has a lot more stuff than all the other parks." Johnna Steuble, mother of Scarlet and Charlotte, embraces the park's security and commends its "wide variety of activities … such as a maze and a carousel."
Though Goreva and Steuble state that more shaded areas would better suit the park for parents, McLean's John Glass lauds Clemynjontri as a place with "lots of other kids for [my kids] to play with. … It's probably the best in the area."