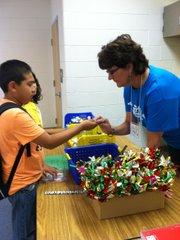 Over 100 elementary school children are getting a groundbreaking summer school experience, thanks to the partnership between Hutchison Elementary School and Floris United Methodist Church. "Camp Hutchison" runs from July 8 through Aug. 2 and is facilitated by over 130 volunteers from the church and local community.
The camp combines education, enrichment and nutrition in a four week, half day program. In addition to being taught math and language arts by certified teacher volunteers, the children, grades 1-3, enjoy daily activities such as art, drama, music, science/nature and recreation. Campers also receive breakfast and lunch, prepared and served by volunteers, as well as a healthy snack to take home daily.
The potential benefits from Camp Hutchison are many. In "Outliers: The Story of Success," author Malcolm Gladwell asserts students in areas of economic disadvantage can perform as well as more affluent students—the key is to extend their school year. Further benefits:
Students gain confidence as they retain and even gain essential learning skills.

Students are not at risk for unfavorable activity associated with lack of supervision or boredom.

Students have the opportunity to engage in an English speaking environment in camp for four weeks, thus maintaining or strengthening their language skills.

Students at risk for poor nutrition receive two healthy meals plus a snack each day.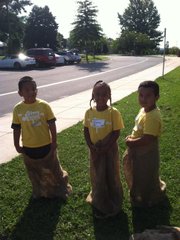 Camp Hutchison is the latest initiative in the partnership between Hutchison Elementary School and Floris UMC, which began over a decade ago. Floris members and friends provide mentoring and tutoring to Hutchison students, conduct evening ESOL classes for Hutchison parents, and sponsor coat/book drives and fundraisers throughout the year. Hutchison Elementary School was founded in 1975 and has a rich multicultural student population that includes students from more than 28 countries.