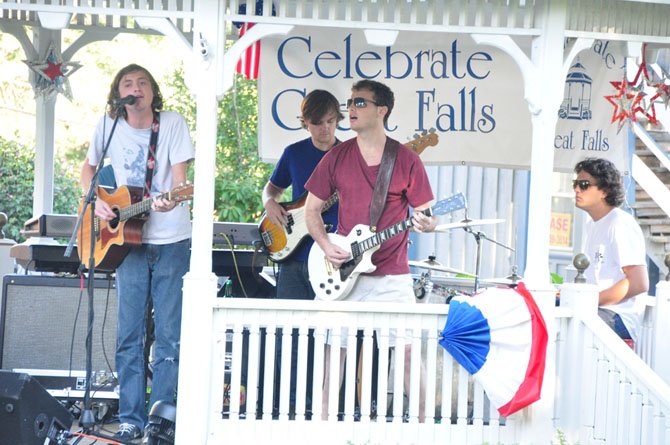 Great Falls — The weekly Concerts on the Green at the Great Falls Village Centre always feature a regional band, but the show Sunday, Aug. 4 was as close to home as it gets. The band, Atlas Road Crew, a rock quintet from South Carolina, featured Patrick Drohan, a Great Falls native, on drums.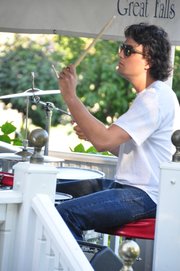 "It was exciting to play a Concert on the Green," Drohan said. "We tailored our set list to covers and originals that best fit the easygoing atmosphere of a summer evening in Great Falls."
Atlas Road Crew was formed by Drohan and four fellow University of South Caroline graduates, Max Becker (bass), Taylor Nicholson (vocals, rhythm guitar), Dave Beddingfield (lead guitar) and Bryce James (keyboard).
What began as a group of friends bonding over bands such as Lynyrd Skynyrd and the Allman Brothers soon became a full time gig for the group, who have been touring extensively and have released a seven song EP.
The Great Falls show consisted of a few originals, mixed in with covers from bands such as Led Zeppelin, the Marshall Tucker Band and more.
"They had a great sound, and played some great covers," said John Malone of Great Falls. "Widespread Panic is one of my favorite bands, and not only did they play a few songs by them, they played 'No Sugar Tonight' by the Guess Who, which Widespread played at their recent show at Wolf Trap. Talk about meant to be."
The concert was sponsored by realtors Glynis and Kevin Canto, which was fitting for Drohan's hometown show.
"I grew up with Patrick as my neighbor for many years, so this is really exciting," Kevin Canto said.
For Atlas Road Crew, the gig was the latest in what has been a very busy summer.
"We did a big tour in June, and over the last few weeks we've been doing some weekend jaunts, going out and playing a few shows in the same general area," Drohan said. "We did Washington, D.C. Friday night, Blacksburg last night, and now we're here in Great Falls, which is awesome. It's a beautiful night."
Beautiful Sunday nights in Great Falls have been rare over the last few weeks. The Atlas Road Crew show was the first in three weeks, as the previous two had been called off due to inclement weather, making it the fourth concert cancelled by weather.
The show originally scheduled for June 2, featuring rock and roll cover band High Five, has been moved to Sunday, Aug. 18.
The concert that was set for June 30, featuring rock group The Remedy, has been moved to Sunday, Aug. 25.
To reschedule the concerts planned for July 21 (rockabilly group Four Star Combo) and July 28 (blues rock guitarist Tom Principato), the schedule would have to extend into September, past Labor Day.
According to members of Celebrate Great Falls, which hosts the concert series, a decision has not been made on those shows. Updates will be posted to www.celebrategreatfalls.org.