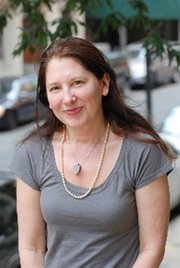 Potomac — Looking for a way to beat the summer heat?
On Aug. 8 at 7 p.m., the Potomac Library will be hosting a book talk with local author Susan Keselenko Coll where she will discuss her novels "Beachweek", "Rockville Pike", "karlmarx.com", "Acceptance" and her forthcoming novel "The Stager" which will be released next summer.
"Acceptance" was made into a Lifetime movie.
"It was a thrill to see my characters brought to life on the screen, and I thought Joan Cusack did an amazing job, as did all of the actors," Coll said.
All four novels are based in and around Montgomery County area. However, they are very different in nature.
"Beach Week" is centered around a rite of passage where D.C.'s suburb's latest high school grads go to Chelsea Beach for a week of debauched celebration.
In "Acceptance," Coll takes a satirical look at the college admissions process, in particular US News and World college rankings and the parental and student reactions to a liberal arts college that is mistakenly placed on the list.
Both "Beach Week" and "Acceptance" are set at the same fictional suburban high school and Coll also mentioned that both novels are "a sort of social document of suburban life."
"They are a satirical look at the way we overparent our children and over lawyering in contemporary society," she said.
Her other novel "karlmarx.com" which is based on Karl Marx's youngest daughter, is centered around a young woman, who works at a Thinktank in Georgetown, trying to find her place in the world.
And "Rockville Pike" a suburban comedy about the changes that occur when a woman and her husband "trade in their glamorous life in New York" to run the family business — a discount funiture store on Rockville Pike a few steps away from the tombstone of Zelda and F. Scott Fitzgerald.
Although she doesn't use any personal experiences as inspiration for her novels, she is connected to her characters.
"I really related to Jane's ("Rockville Pike's" main character) feelings of displacement because I felt displaced when I moved to Montgomery County as well," she said.
The entire writing/editing and marketing process typically takes her from 2 to 3 years.
She advises beginning authors to just "keep going" despite the rough economy and join a writer's group, like the Bethesda Writers Center, where they can receive constructive criticism.
Besides the normal challenges that other writers face, Coll's biggest challenge was trying to balance her full time job and her side job of being a fictional writer.
"I try to write in the morning before going into work, and if that isn't possible, I try to write in the evening for an hour or so," she said.
Another challenge was keeping up her morale.
"It's a lonely profession. The bigger challenge for me and many writers is the morale ... just to keep going. That self doubt of not being sure that anyone will publish it or if anyone will want to read it," she added.
When she isn't writing, Coll enjoys reading works by contemporary female authors and classic fiction such as F. Scott Fitzgerald.
Currently, Coll works as events and programs director at Politics and Prose Bookstore in Washington, D.C. Prior to this, she worked as a freelance editor and writer for 20 years.