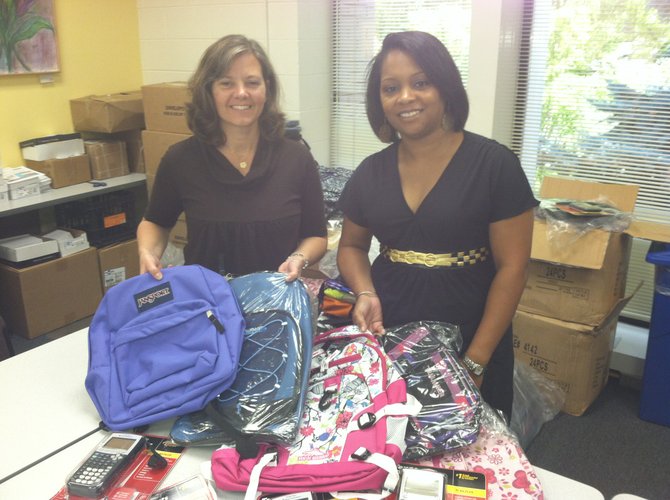 Our Daily Bread in the City of Fairfax is trying to increase its capacity to collect school supplies to help 2,000 students by partnering for the third year with the "Collect for Kids" Back-to-School program. That's 1,217 more than last year's 783 number of students who benefited. The deadline for cash donations, backpacks and scientific calculators is Aug. 12.
"We've already purchased the supplies; we're hoping to get the cash donations," said Our Daily Bread Executive Director Lisa Whetzel. "If they can give us cash, we buy supplies in bulk."
A $30 donation will help two students with school supplies. And this year, that doesn't mean notebook paper, scissors, pens or pencils—it's a brand new model. The total budget is $20,000, which Our Daily Bread is still trying to raise.
As of Friday, it has enough supplies to help 300 students. "Three hundred is completely inadequate," said Whetzel. "We're trying to provide for 2,000 children, and we have a long way to go."
Dawn Sykes, season and holiday programs manager with Our Daily Bread, added: "The goal is to have kids start off the school year with a positive attitude and the tools they need to succeed."
Collect for Kids is partnering with Kids R First, Fairfax County Public Schools, the Fairfax County Office of Public and Private Partnerships, Apple Federal Credit Union and other groups and businesses. They are working together to make sure students on free and reduced lunch programs get the supplies they need come September.
Children from 14 schools in both the Jeb Stuart Pyramid and the Fairfax High School Pyramid benefit from the collections. Social workers help identify the needy students from their schools who are on the free or reduced lunch programs, and the supplies are given directly to them.
Whetzel said 47,000 children are on the free or reduced lunch program countywide. "And even with all the nonprofits working together, we're still not meeting the need," she said.
This year, Office Depot is offering a discounted rate for its school supplies. The type of calculators needed are: TI30xa Solar School Edition, TI-83 or TI-84 (new or gently used ones).
On Aug. 12, volunteers will be sorting the supplies, and the school PTAs will be delivering them to the schools where they will be further sorted, said Whetzel.
To make a donation, mail a check to: Our Daily Bread, 4080 Chain Bridge Road, 2nd Floor, Fairfax, VA 22030 (write Back to School in the memo). Contact Dawn Sykes at 703-273-8829.