After 18 years in education, David Fee was named new principal of Hunt Valley Elementary School in Springfield on July 1, taking over the position from former principal Pat Small who retired on June 30.
There are 600 students projected to attend in September. The school's demographics are as follows: 58 percent white, 14 percent Asian, 7 percent black, 11 percent Hispanic, and 8 percent "other." Some 4.7 percent are on free or reduced lunches.
"I am going to continue building relationships with the community, staff, parents and students," said Fee who is often seen welcoming visitors and students in classrooms. "And commit to building strong, collaborative learning teams here at Hunt Valley."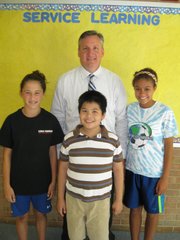 To that end, he added: "We focus attention on meeting the needs of all of our students, including our subgroups. … And I always tell our staff not to forget that we're here for the kids in all our work."
Small worked with Fee for six years when he was assistant principal and called him "masterful" in his interpersonal skills. "He's smart, he's well planned, and his personality and his caring for everybody holds it all together," said Small. "He's going to be a great principal."
She said he can take any programs coming down the pike from the county, and is able to present them to the staff in a way that they'll understand, and a way that they will help to achieve county goals.
In addition to general education, the school offers an Enhanced Autism Program with four or five classrooms of students with autism and highly-trained Applied Behavior Analysis (ABA) teachers, special-ed teachers and instructional assistants. The school gets countywide visitors who are establishing new autism programs at their own schools. Fee said, "I'm proud of our philosophy of inclusion and meeting the students' needs."
He calls the school's PTA strong and supportive, providing the funding for a new gravel track to be installed this summer. "The track will be a nice addition to our school and a way to build community involvement with neighbors," he said. "We met today with the PTA board to plan out the year."
PTA President Karen Layser of Bramblewood said people were secretly crossing their fingers when Fee applied for the slot. They respect him and see him as a fellow parent, she said: "He cares a lot about the school, the children and the families, and making sure anything they need is taken care of."
The school built in 1969 and renovated in 1996 is part of the West Springfield Pyramid. It offers the more rigorous Advanced Academic Program (AAP) services, which is the former Gifted and Talented program, for all levels. An accelerated math program is offered in grades 3-6. There is also a year-round SACC program and an adapted physical education program. Students can take part in both the spelling bee and geography bee.
For a $299 fee, Hunt Valley is starting new GLOBAL Language Learning classes, offering 20 sessions in French, German, Spanish for grades 1-3, and 4-6. The curriculum is aligned with FLES and taught after school on Tuesdays and Thursdays beginning in October.
Once a year, second-graders visit Green Springs Retirement Community for a community service project. "They spend time with the seniors and reflect on their contributions to their lives," said Fee.
For four years in a row, Hunt Valley received the Governor's Award for Educational Excellence, the governor's highest honor. "We have an excellent reputation at Hunt Valley in student achievement," said Fee. "And I want to continue to meet the needs of all of our students."
A military brat, Fee was born in Utah and moved throughout the South as a child. He attended Wilton Woods Elementary School in Alexandria in grades 1-4 and attended a DoDDS school in Germany. He graduated from high school in Alconbury, England. He got a degree in exercise physiology in 1988 from ODU and worked as a fitness trainer and physical therapy aide at a sports medicine center. He went back for a master's from GMU in curriculum and instruction in 1995.
Fee's first teaching job was as a fourth-grade teacher at Bonnie Brae Elementary in Fairfax. After six years, he became a school-based technology specialist at Freedom Hill Elementary in Vienna. In 2007, he became assistant principal at Oak View in Fairfax, followed by assistant principal at Hunt Valley.
He is married to wife Jacki, a reading resource teacher in Fairfax County. The couple has two children: Brendan, 14, and Maddie, 11, both at Lake Braddock.