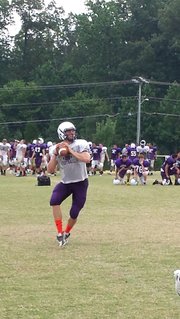 In 2012, Caleb Henderson was a junior quarterback at Lake Braddock and a high-profile college football recruit.
He was also a kid getting acclimated to a new school, new classmates and a new offensive system while trying to decide where he would play at the next level.
Henderson played his sophomore season at West Potomac but transferred after his father, Eric Henderson, was informed he would not return as head coach. Caleb Henderson became the starter at Lake Braddock and led the Bruins to the Patriot District title and the No. 2 seed in the Northern Region playoffs. However, Lake Braddock lost at home in the opening round to No. 7 Oakton, which went on to win the region crown.
Nine months later, Henderson is entering his senior season as the Lake Braddock signal caller. He's familiar with his teammates, coaches and the Burke secondary school. He made a decision about his football future, committing to the University of North Carolina. He's playing in a different offensive system again, but he'll have a familiar face helping him along the way as Eric Henderson, who was the Bruins' defensive coordinator last season, has moved to offensive coordinator.
"He's comfortable with who he is and he's comfortable with being a Lake Braddock Bruin," head coach Jim Poythress said at a recent practice. "Last year, he was trying to transition, his brother (linebacker Jon Henderson) was here, his dad's trying to transition, but now they all have a year under their belt. They're familiar with everything we do. It's a lot easier. It's been much smoother that way."
The Lake Braddock football team is again loaded with talent and it starts with Henderson, who is ranked No. 186 in ESPN.com's list of the nation's top 300 recruits in the class of 2014. At 6 feet 4 and 217 pounds, he received four of five stars and a grade of 83 out of 100. ESPN ranks Henderson as the 11th-best quarterback in the class.
"He's comfortable with who he is and he's comfortable with being a Lake Braddock Bruin."

--- Lake Braddock football coach Jim Poythress about Caleb Henderson
"I feel a lot more comfortable because I know everyone," Henderson said. "I know how I can throw to AJ [Alexander], I know how I can throw to Ryan [Antonellis], I know how I can throw to Vince [Sica]. They're all different players, they all catch the ball differently, they all run their routes differently, and now that I've had a whole year to get to know them and lift with them and run with them, it really instills confidence in me to know how I can throw to them."
Poythress said Henderson has matured.
"Last year, he would just blow up when things didn't go his way," the head coach said. "I think he's much more in control of himself and he's friends with all these guys now. He had a whole year where he's hung out with them and done things with them outside of school. They've played tons of 7 on 7 games, so there's some chemistry there."
Henderson played for his father at West Potomac, but Eric Henderson didn't call plays for the Wolverines that year. This season will be the first time the two have worked together from a play-calling standpoint at the high school level.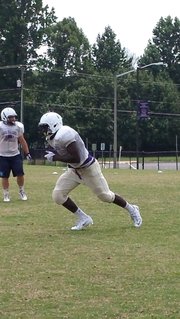 "Sometimes it gets heated just because that's my dad," Caleb Henderson said of their quarterback/offensive coordinator relationship. "Sometimes I disagree with him, but usually --- all the time --- I'm wrong [and] he knows the offense a lot more than I do. First couple days were getting a little rough, but now I'm just getting through his play calls, learning what he wants me to see and just trusting him."
Eric Henderson said the two try to separate football from family time.
"When we go home and we're not watching film or doing something along those lines, we flip the switch and go to the other side," the elder Henderson said. "When it comes to football and practice and watching film and doing those things, I think our relationship changes."
What about disagreements?
"We don't butt heads," Eric Henderson joked, "I win."
"More often than not, if he can explain his way through something, then OK, fine, let's do it," Eric Henderson said. "[Caleb has] played a lot of football, he knows what he's doing."
Caleb Henderson will be playing behind a sturdy offensive line. Poythress, who is also the O-line coach, said each of the five starting linemen can squat at least 500 pounds. Junior center Randall Bills is one of the lighter players in the group at 250 pounds. Senior right guard Lance Hammond can bench press 380 pounds, and 340-pound senior left guard Reece Burnett can bench press 400. Junior right tackle Caleb Montemayor and senior left tackle Michael Wold will also start.
Alexander is one of the Bruins' top receivers. The 6-foot-3, 210-pound junior said he has received an offer from the University of Virginia. Sica and Antonellis are also pass-catching threats.
Senior Trevor O'Brien, junior Dejoun Lee and senior Jon Carrier could see time at running back.
On defense, Poythress called senior Dwight Lomax a physical "specimen." The 225-pounder can bench press 350 and will move from linebacker to pass-rushing end. Junior edge rusher Ian Reilly could also be an impact player up front.
Tim Coulter and Kyle Edwards will likely be the safeties. Senior linebackers Kevin Hankton and Patrick Farrell could be impact players.
Lake Braddock will play in 6A North's Conference 7 after the VHSL's six-class realignment. The conference is composed of seven of the eight members which comprised the former Patriot District (Lee moved to 5A North's Conference 13).
The Bruins will travel to scrimmage Osbourn at 6:30 p.m. on Thursday, Aug. 15 and Seneca Valley (Germantown, Md.) on Aug. 23 before opening the season at Robinson at 7:30 p.m. on Aug. 30.
"I think there are certain years when you're hoping to get into the playoffs, and then there are years where you're expecting to get into the playoffs and then you're expecting to make a run," Poythress said. "I thought last year's team could move forward in the playoffs and we got Oakton first and they were kind of a buzzsaw. … I think this group is more advanced than that group."
Caleb Henderson also believes in the Bruins.
"We have the talent and the physicality," he said. "If we stay consistent and do what we do and execute, we can beat anyone, I think."