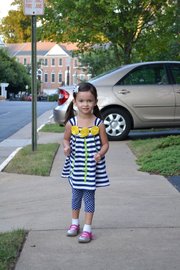 Children's National Medical Center is going to be running on Oct. 5 to make sure all of the community's children can practice healthy habits, too.
This fall, Children's National is holding the Race for Every Child fundraising event, a 5k that will profit the hospital. The run will take place at Freedom Plaza, and anyone is invited to take part by forming a team to run together.
"I think any event that's going to raise awareness is critical," said Lisa Cantu-Parks of Fairfax, former associate director of development for the Joseph E. Robert, Jr., Center for Surgical Care at Children's National.
Cantu-Parks is no stranger to Children's National. Not only did she work there for more than 10 years, her 4-year-old daughter was treated there. Cantu-Parks's daughter, Adina Parks, is allergic to dogs, weeds, mold, dust mites and trees.
MOST 4-YEAR-OLDS come in the door and carelessly kick their shoes off and play, neglecting to wash their hands at their mothers' behest. Adina does things a little differently. Her parents worked out a regimen to limit her allergic reactions. When she comes home, Adina immediately removes her shoes, bathes, has her hair washed and changes clothes. These diligent steps prevent her from being upset by a lot of allergens that are carried on hair, clothes and shoes. She even maintains a gluten-free diet during high allergy season, because it tempers her reactions.
"When she was tested in October 2012, we were very surprised with the reactions," said Cantu-Parks. "No one expected her to have anything."
Adina's allergies are inconvenient and require a lot of caution. However, she is a healthy and active girl. There are many children treated by Children's National that cannot say the same. Although her allergies demand attention, her parents count their blessings because they know their situation could be far worse.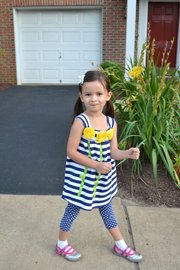 "We're thankful," said Cantu-Parks. "I have a hard time fathoming what some of those families go through every day."
The 5k race is aimed at helping not only Adina, but all children who need medical attention. Although the hospital is located in our nation's capital, it is not government funded. This run is one of many fundraisers throughout the year to raise awareness and support.
"A 5k can really get every single person in the family out," said Erin Corcoran, associate director of Philanthropic Marketing and Communications at Children's National. "It's truly open to anybody."
THE EVENT will include more than just the 5k race, though. There will be a 100-yard Kid's Dash, the Great Zucchini magician, a Kaboom playground, the Superheroes of Southern Maryland, and face painting. There will also be corporations, team mascots, athletes and celebrities in attendance. Doctors representing all of Children's National centers will also be there to provide information on healthy lifestyles.
Adina and her parents will be attending the event to show their appreciation of Children's National. All are invited to participate to make sure Adina and all kids everywhere get the treatment they deserve.
"It's such a feeling of relief to know those resources are there for my child and every child," said Cantu-Parks. "It's in the spirit of building community and rallying around the importance of philanthropy."
Event details are on RaceForEveryChild.org.