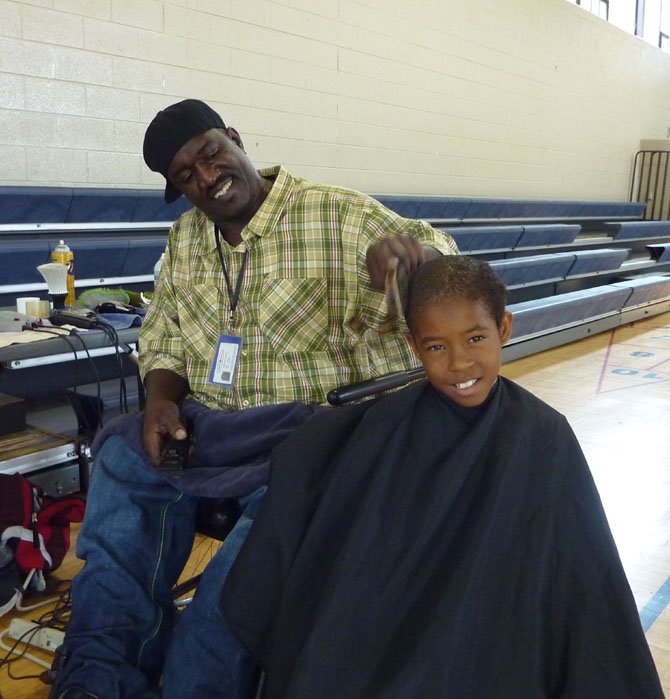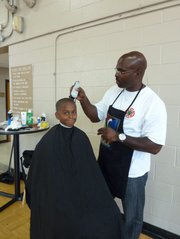 Students from throughout the region will be treated to free back-to-school haircuts thanks to Alexandria and Fairfax County firefighters who are sponsoring the third Cuts for Kids Days Aug. 26-28 at area recreation centers.
"Our first Cuts for Kids Day will be held at the Charles Houston Rec Center on Aug. 26," said Capt. Willie Bailey, an organizer of the event. "Barbers from the area will donate their time doing haircuts from 9 a.m. until 2 p.m. We will also be giving away new clothing and backpacks filled with school supplies. We want these kids to feel good about themselves when they head back to school."
In addition to free haircuts, new clothing for toddler to elementary age children will be distributed along with backpacks and school supplies. Face painting and balloon animals will be provided by Modine the Clown and popcorn and snowcone machines will be set up to provide refreshments. A fire truck will be on display and fire safety activities will be held throughout the day.
Cuts for Kids Days
Monday, Aug. 26: Charles Houston Rec Center, 905 Wythe St., Alexandria. 9 a.m. - 2 p.m.
Tuesday, Aug. 27: Gum Springs Rec Center, 8100 Fordson Road, Alexandria. 10 a.m. - 2 p.m.
In addition to the Alexandria Fire Department and the Fairfax County Fire and Rescue Department, other sponsors of Cuts for Kids Days include the Keith Burns Foundation, Charles Houston Advisory Board, Progressive Firefighters, Apple Federal Credit Union and the Neediest Kids Organization.
"We're very thankful that these organizations have partnered with us to provide free haircuts, backpacks and school supplies to help prepare kids for the upcoming school year," Bailey said. "This is always a fun day for everyone and we are looking forward to a good turnout."
Additional Cuts for Kids Days will be held Aug. 27 at the Gum Springs Recreation Center and Aug. 28 at the Southgate Community Center in Reston. Both events will take place from 10 a.m. to 2 p.m.