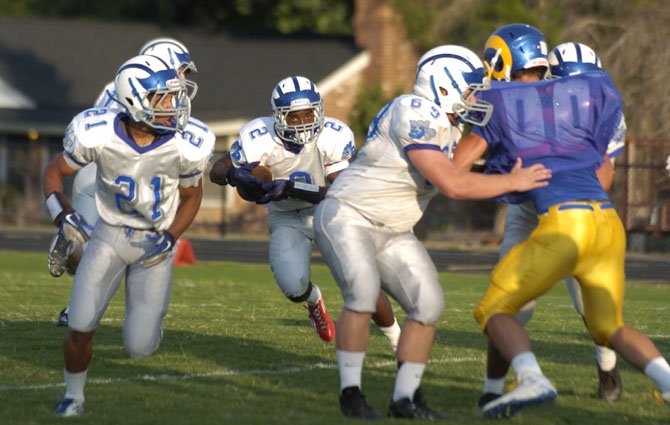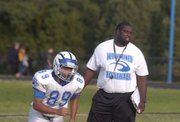 The West Potomac football team was nearing the end zone during a recent scrimmage against Robinson when Wolverines quarterback Preston Jones tipped an errant shotgun snap up in the air.
While the Wolverines had reason to panic, senior running back DeMornay Pierson-El showed he had everything under control.
Pierson-El transformed the potential stressor into six points, catching the botched snap and racing around the left side for a touchdown.
"That wasn't designed," head coach Jeremiah Davis later said.
Pierson-El's athleticism is a big reason why West Potomac made the playoffs in 2012. Now a senior, Pierson-El and the Wolverines will attempt to return to the postseason in Davis' second season as head coach.
Pierson-El is committed to the University of Nebraska as a slot receiver and a kick/punt returner. Davis also plans to use Pierson-El in multiple positions.
"We're going to use him all over the field," Davis said. "He has a lot of duties: he'll play the backfield, he'll play wide receiver, he'll play defense, he'll play corner, he'll play safety. … He does it all."
Pierson-El has high expectations for his senior season.
"I plan to break some school records," he said. "Punt returns, rushing, rushing touchdowns, maybe receptions. That's it."
Pierson-El also said he's targeting the school's single-season interception record of 10.
"We're going to use him all over the field. … He does it all."

— West Potomac football coach Jeremiah Davis about

DeMornay Pierson-El
While the Wolverines have a star, Davis pointed out Pierson-El will have some help this season. Senior running backs Josh Carter and Kevin Carter are cousins of Pierson-El and figure to lighten his load in the backfield.
"We're not singular anymore," Davis said. "This isn't just give No. 5 the ball and watch him go."
Jones enters his first season as a varsity starter at quarterback.
Senior James Harkless could see time at receiver.
On defense, Harkless is a standout cornerback who said he is receiving interest from multiple colleges.
"Last year we were really senior heavy, so this year was sort of a rebuilding process," Harkless said. "But we've come together so far. It's only two weeks into the season and [our performance during tonight's scrimmage against Robinson] explains how hard we've been working and paying attention."
Davis described senior linebacker Darien Pickett as the "leader" of the defense.
Davis said he's noticed the Wolverines are starting to do the "little things," in regard to following directions and displaying good sportsmanship on the field.
"He's been telling us … [to] keep our composure and be gentlemen out there," Pierson-El said, "but [also] handle [our] business."
West Potomac will play in 6A North's Conference 7 after the VHSL's six-class realignment. The conference is composed of seven of the eight teams that formed the former Patriot District. Lee is competing in 5A North's Conference 13.
The Wolverines will open the season at home at 7:30 p.m. on Thursday, Aug. 29 against Centreville. The teams played twice last season, with West Potomac winning the regular-season matchup and Centreville winning in the playoffs.