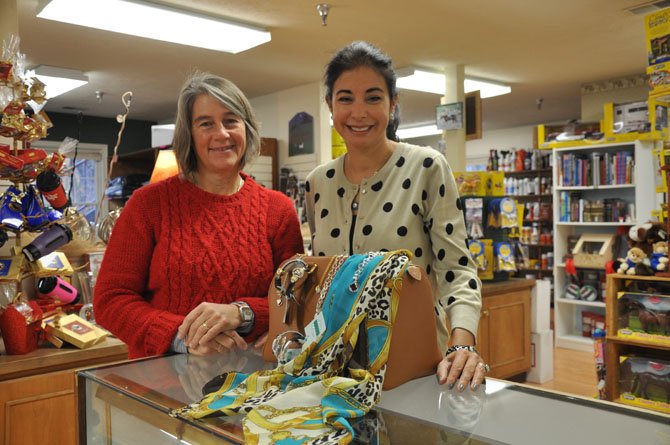 The Saddlery at 731-E Walker Road in Great Falls is well-stocked with reasonably priced holiday gifts that range from Patricia Barta custom designed Greek leather and cubic zirconia magnetic clasp bracelets to equestrian themed items like Breyer horses, including the 2013 holiday horse, "Holiday on Parade." "We love to work with local designers. We have a book from a local author, " said owner and Great Falls resident Sarah Kirk. "It's a community store," adds Kirk, "that's the most important thing to us." Kirk considers The Saddlery a natural community gathering place. While Kirk often hires local high school students, some employees have been with The Saddlery from the time it opened 30 years ago.
The Saddlery's large selection of children's and adult clothing and accessories includes basics such as sweaters, hoodies and zippered pullovers, and outerwear, gloves and hats; affordable luxuries such as leather goods, Italian silk scarves and Patricia Barta custom designed jewelry; and whimsical gifts such as "fabulously fluffy, sox for a fox," Fluff Monkey boot trees, and Cowboy Magic with Rosewater hair care products, suitable for humans and formulated for hard, well water. Custom laser engraving is available to personalize a holiday gift with a monogram or to brand corporate gifts with company logos.
Also at 731 Walker Road is Great Falls Nails & Spa. His or Her Spa Packages with lunch, or Mini Packages with a refreshing snack and beverage are available in addition to the extensive offerings of nail salon, spa massage and facial, and manicure/pedicure services. The Spa Packages offer a discount over Individual services priced separately. They are running a discounted special on Eyelash Extensions for the holidays. Manicure/Pedicure and nail services are also available for children. Gift Cards and nail polish in a favorite shade could make perfect Stocking Stuffers.
Great Falls Nails & Spa also likes to partner with local business owners. On Wed., Dec. 4 from 2-6 p.m., Plato's Closet Dulles, owned by Great Falls resident Elaine Singer, is hosting an event at Great Falls Nails & Spa where Plato's Closest Dulles staff will be selling and buying gently used designer clothing and accessories.
Great Dogs of Great Falls, in the Great Falls Center "Safeway" shopping center, 9859 Georgetown Pike, has the feel of an old fashioned general store. Owner Linda Waitkus is a Great Falls resident who seems to know everyone and their pets. "That's what's so great about Great Falls," says Waitkus, "and that is what is so wonderful about us and our store, we are local. I have such loyal, wonderful customers." Holiday themed pet toys and accessories include ALQO Wasi dogwear hand knit in Peru with soft Alpaca Fiber. Pets will look their holiday best after a Spa Day at Great Dogs Grooming Salon.
Waitkus also notes that, "we have some great gifts for people," including machine washable, Jellybean indoor/outdoor rugs, picture frames, ceramic biscuit jars and 2013 Fiestaware ornaments. In addition, you can stop by Great Dogs for tickets to the Woman's Club of McLean Holiday Homes Tour on Dec. 5, or to purchase the 2013 White House Christmas Ornament from which all proceeds benefit the Great Falls Friends & Neighbors. Chances are you will bump in to one of your own Great Falls friends and neighbors. As Waitkus says, "it's a fun store."