There's still plenty of time to buy gifts for family and party hosts. There is even time to buy a gift or two for someone without the means to reciprocate. Here are a few ideas from local shops, restaurants and resources. And, please, remember that gifts do not have to come in wrapping to be welcomed and appreciated.
Grown-ups have been gifting kids with toys since the beginning of the St. Nicholas legends. The Toy Corner in the Oakton Shopping Center at Chain Bridge and Hunter Mill roads is the second-best thing since Santa's workshop. The Toy Corner is the thinking, creative kids' outlet for games, activities, crafts and the world of science, all made "fun." And since every parent has thinking, creative kids, The Toy Corner is pretty appropriate for all the kids on your list.
From science kits – including snap-circuit boards and experiments – to French-designed Corolle dolls, from brain-games to Ravensburger puzzles, The Toy Corner specializes in high-quality toys that teach through play.
The Zimmerman family has owned and personally-run The Toy Corner for 28 years. The shop offers toys and games you won't find anywhere else in the Vienna-Oakton area.
Mosaics by Numbers and Sticky Mosaics, made by The Orb Factory, range in price from $11 to $18. Mosaics by Numbers is a craft requiring a child to apply numbered stickers to numbered shapes, creating a colorful scene, from a fairyland to dinosaurs. The product lines encourages dexterity along with numbering. Kids love press-and-stick artwork.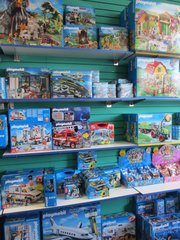 The Toy Corner sells science activities and mind puzzles for preschoolers and older children. The Geo Safari Vega 360 telescope, a "real" telescope with glass lens that magnifies up to 80 X sells for $50. A 50X – 900 X microscope sells for $90. Snap circuits start at $17 and the wired robotic arm kit sells for $74.
Not all is "science" here, though. The Corolle dolls come in all sizes, from mini to newborn-sized. The store sells doll- nursery accessories, as well. There are Lego and Playmobil collections from single-scene to vignette. Playmobil is made in E.U. countries and The Toy Corner's selection is huge and diverse. Prices start at under $10 and go up into the hundreds.
December 6 is St. Nicholas Eve, an opportunity to take the edge off the Christmas wait with a few small gifts. Kids leave their shoes outside their doors on Dec. 6, and emissaries from the North Pole leave treats and little packages for the children in the shoes. Knee-high boots allowed.
The Toy Corner is located at 2930 Chain Bridge Road. Call 703-255-3232 for information on products.
WHEN ROMANCE is more than a candlelit dinner, think of Trousseau, a Vienna woman's shop "dedicated to the art of romance." That translates into luxurious nightwear and the largest selection of high-quality "fitted" lingerie you will find anywhere in the area. Trousseau stocks 4,500 bras at any time.
Trousseau sell bras in more than 160 sizes, from functional and practical (first-bras, sports bras) to fun, glamorous and ornate. Nothing is "trashy" at Trousseau; the stock is elegant and well-made, and the sales staff is knowledgeable and qualified to fit the woman to the bra. Trousseau sold more than 18,000 bras in 2012 --- and that's from a single store. The shop has already surpassed that number this year.
Owner Sarah Wiener said Trousseau specializes in quality and comfort. Romance is a way of living, said Weiner. The lingerie, sleepware, body care products and chocolate slant to the finer, "romantic" way of living.
The Wiener family opened Trousseau 14 years ago and the shop has a cadre of loyal customers. One, said Sarah Wiener, created her bridal registry there, returned for her first anniversary, and recently came into the store with her newborn.
Trousseau is an artform, not Victoria's Secret. Sleepwear is mostly in the $50 to $200 price range, while basic bras sell primarily in the $60 to $80 range, and lacy, sophisticated bras start at $70 and go up from there.
Trousseau is located at 306 Maple Ave. West, Vienna, in a strip shopping center. Its phone number is 703-255-3300. Or, visit www.trousseaultd.com for details on the shop's offerings.
MOST VETERINARY CLINICS and pet stores provide a bin for donations to animal shelters in less-affluent regions. Many of those in-need shelters have high-kill rates out of economic stress. Some turn to no-kill rescue leagues or animal shelters in Northern Virginia. You can help save defenseless animal lives with your donation of food, blankets and medications to the in-need shelters. Or make a monetary donation in memory of a non-human family member. If it really is better to give than to receive, you'll feel great after doing so. Stop by a local animal hospital or pet store with your donation. Honoring a loved one is a life-time gift. Someone close to you battling a disease? There's no more appropriate time to get into the giving spirit than Christmastime. Donate to a nonprofit that supports research of the condition. Somebody will be very grateful.
ABBEY'S HALLMARK, family-owned, has been an Oakton tradition for more than 10 years, and features some pretty unique products, as well as traditional collections. One of the more bespoke lines is the Nora Fleming interchangeable serving piece collection. The ceramic serving pieces have little holes in a corner where a novelty accent is inserted. Abbey's Hallmark sells handpainted wine glasses by Lolita for $30 each. There's a vast Vera Bradley collection of fabric bags, too.
Abbey's Hallmark is located at the Oakton Shopping Center, # 107. Phone 703-255-2408.