Activities at Reston Town Center continued throughout Black Friday, with thousands of people participating or observing holiday themed events. Among the events were the Gingerbread Man Mile for Kids, the annual holiday parade, and the evening Christmas tree lighting and sing along. The Reston Holiday Parade has been an annual tradition since 1991, and was supported by sponsors including the Reston Community Association and the Reston Town Center Association.
Beginning at 8 a.m., tots to high school students ran in the Gingerbread Man Mile at the Kids Mile Fun Run presented by Potomac River Running. The course covered a 1-mile loop around Reston Town Center. Race winners were able to take part in the parade following the races. Approximately 1,200 persons registered for the race. "It is kid focused and a great opportunity for any child any age," said Potomac River Running head coach Kelly Kavanaugh who was emceeing the race. The Gingerbread Man Mile benefits Children's National Medical Center.
Nathan Musso, a sophomore at Robinson High in Fairfax, donned the costume of the Gingerbread Man and cheered on participating runners. "It was fun," said Musso. Braden and his brother Jack Sturman both ran in the 8 to 9 age group of the race. "We are thrilled they were able to participate in this race," said their mother, Jennifer Sturman.
THE 23RD ANNUAL RESTON PARADE began at 11 a.m. with the Masters of Ceremonies being Sonya Gavankar McKay, TV Personality, and Devon Lucie of Channel 8. Reston real estate broker Joe Ritchey was this year's Grand Marshal.
Junior Grand Marshal was Lauren Spar, 8th grade student at Langston Hughes Middle School. In her two years at the school she has run her own service club, SPAR (Service Projects Around Reston). "I love the Holiday Parade," said McKay. "It is the perfect way of kicking off the holiday and finishing the year with family, community and charity."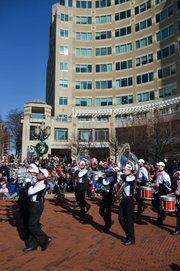 Prior to the 11 a.m. start, thousands of commemorative Reston Town Center jingle bells were handed out to children along the route on Market Street as they waited for the parade to begin. The theme of this year's parade was "Destination: Reston," and many floats and groups used the transportation theme, paying tribute to the soon-to-come Silver Line.
The Herndon High and South Lakes High School marching bands performed, in addition to members of local schools' Junior ROTC programs. The Herndon High Step Team also preformed a dance routine. "We have had many practices and prepared a lot for this event," said Herndon High senior and step team member Ryan Withers.
Members of the Reston Community Players cast in the upcoming production of "Les Miserables" sang songs from the musical, and staff and associates of ArtInsights Animation & Film Art Gallery paraded as Disney princesses. "We love representing Disney, and the kids love it," said ArtInsights owner Leslie Combemale.
APPROXIMATELY 2,000 VOLUNTEERS helped make day's events a success. Spectators came to see at least 60 groups participate in the holiday parade, amounting to more than 500 participants in the procession. Reston resident Lyn Cordts along with family members from North Carolina came to view the parade. Cordts' son Robby was volunteering with other members of Boy Scout Troop 1313 as a parade marshal. "It was a great parade," said Cordts.
The parade concluded with arrival of Santa and Mrs. Claus in a horse-drawn carriage. Merriment at Reston Town Center continued into the evening. At 5 p.m., at Fountain Square there was a performance of "Santa's Frosty Follies," by the Metropolitan School of the Arts, and a tree lighting and sing along with Reston Chorale at 6 p.m. Visitors also had the opportunity to go on a horse drawn carriage ride. "It is very exciting," said Ross Kirby who was filming the event for Story Catcher Production.
To learn more about the Reston Town Center and upcoming events, visit http://www.restontowncenter.com.