The Langley HS Orchestra will present their winter concert on Thursday, Dec. 12, at 7 p.m. in the Langley HS Auditorium. The concert is a collaboration of two of Langley's largest programs—Russian and Orchestra.
Russian students of Valentin Cukierman will serve as emcees, introducing each piece in Russian and in English. They will also present traditional poetry in both languages. Students and performers will enjoy a Russian banquet preceding the concert.
Langley's four student ensembles will present works by historical composers Glinka, Gliere, Rimsky-Korsakov, and Prokofiev under the baton of guest conductor Glenn Quader from the Fairfax Symphony.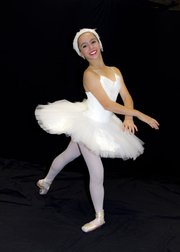 Sophomore ballerina Maria McQuade will dance to the famous overture for the Tchaikovsky ballet, "Swan Lake." Pianists will present literature by Rachmaninoff, Stravinsky, and Tchaikovsky.
The orchestra will capture the holiday spirit with selections from the "Nutcracker," a jazz chart entitled "Five Ukranians in a Bell Tower," and the Trans-Siberian Orchestra's arrangement of "Mad Russian Christmas."
The concert is free and the public is invited. Elementary and middle school students are encouraged to attend so that they can consider learning Russian or joining the orchestra once they get to Langley.
During intermission, the orchestra will hold their fourth annual silent auction in the auditorium lobby. This is an opportunity to shop for the holidays, encourage local businesses in the community, and support the Langley Orchestra program. Gift items are available from Gathered Stems, Jeff Lubin Portrait Studio, Stella and Dot, Smith's of Bermuda, Alterna Haircare, Mesmeralda's Gifts, Georganne's Hallmark, the Kellogg Collection, and Obaji. Restaurant gift certificates include L'Auberge Chez Francois, Evo Bistro, Pasa Thai, Maggiano's, Listrani's, China Express, and Red Tomato. Georgetown Learning Center is offering SAT preparation and three hours of tutoring. Auction items include reserved orchestra concert seats and one reserved Langley HS parking space. Other gift certificates include services from Hair Quarters of McLean, McLean Nails and Spa, Salon Kenan, Susson (Hairstylist in Serenity Salon and Spa in McLean), Fairfax Cleaners, McLean Cleaners, and Dr. Edward Nelson, DMD.