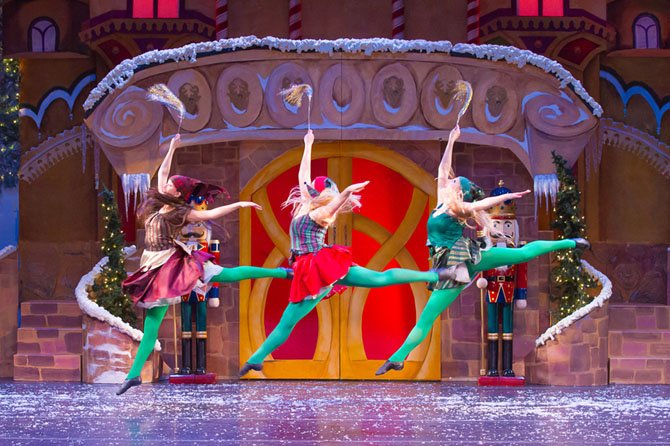 When a precocious, young girl changes places with a playful elf at the North Pole, things are bound to go awry and only Santa can save the day. That's the premise of Encore Theatrical Arts Project's new holiday show, "Switching Christmas."
"It's a heartwarming story and a love story, too," said Director and Choreographer Raynor van der Merwe. "It's also about wanting to be other places, but learning that what we need is right under our noses at home."
"SWITCHING CHRISTMAS" offers the magic of the season in an original dance musical. The cast of nearly 50 includes students from Centreville and Chantilly schools, plus professional actors Dan and Tina Delafield.
"People looking for something different than the traditional 'Nutcracker,' 'Messiah' or 'Christmas Carol' will really enjoy this show," said van der Merwe. "The dancers have been rehearsing since July and spend 20-25 hours a week in the studio."
"We have lots of newcomers, but also a great group of seasoned performers setting a good example for the younger ones," she continued. "There are so many exciting dance numbers that'll keep young kids entertained, plus a great story that everyone will enjoy. We've got old favorites, plus new numbers, so there's something for everyone. And, visually, it'll be spectacular – it truly is a family musical."
Logan Floyd, a Fairfax High junior, plays one of the lead roles, Madison, the daughter of a New York City hotel manager. "She wants to have fun with her friends, but her dad has a hard time letting her do that alone," explained Floyd. "Then an elf named Sprinkles comes to the hotel to see who's been naughty or nice, and she thinks it's exciting there. Madison wants to travel the world, so the two of them switch places."
An Encore dancer since seventh grade, Floyd says it's fun to create the relationship between her character and the elf. Her favorite number is "Dig that Crazy Santa Claus," performed by elves. "It shows the North Pole and introduces Santa's workshop for the first time," she said. "We're all dancing around and it's very high-energy."
Playing Sprinkles is Little Rocky Run's Caitlyn Watkinson, who's homeschooled. "She uses her Christmas magic to mess up Madison's life in New York," said Watkinson. "She's outgoing, happy and carefree, but doesn't realize the damage she's doing to others."
HAVING A GOOD TIME exploring her character, Watkinson likes playing an elf because "I get to bring all the elf stereotypes to life – Sprinkles is short, skips everywhere and likes to drink hot chocolate." She likes the "Soldiers" routine because "we get to act like wooden soldiers and move our bodies like [nonhuman] objects."
It's her second year with Encore and, said Watkinson," I really enjoy it; everyone's super nice and there are no cliques. And I like performing because, when you're onstage, you're in a whole, different world and just get to be in the moment." She said the audience will like the big contrast between Sprinkles' and Madison's characters and will leave happy.
Westfield senior Caroline Bond plays Percy the hotel clerk and Sneaky the elf. "Percy aims to please and Sneaky is a mischievous elf who doesn't really like anything," she said. "I especially like being Sneaky because it suits my personality."
She enjoys performing because "it lets me forget about my issues outside of dance, and it's fun when everyone really nails their choreography." Her favorite number is "Multiplying Santas" because she likes the costumes and "how we all look the same. And it's really fun to be a big, bumbling Santa Claus for a whole five minutes."
Bond said the audience will love the show's "creative storyline and colorfulness of the dances. It'll put them in the Christmas spirit."
Emma Konnick, a McLean High senior, plays an elf named Cheeky who "waits for the other elves to get involved in things before she joins in." Konnick likes the finale, "Snow," because it's a 12-minute number and she changes costumes five times. She's been with Encore four years and calls the experience a "turning point" in her career.
"It's opened up so many doors for me," she said. "I travel an hour to get to the studio in Chantilly, but it's so worth it." As for the show, she said the audience will enjoy "how everything ties in and how well the plot and dances mesh together."
Jessica Dawson, also homeschooled, plays Mrs. Claus as "ecstatic, energetic and eccentric. It's been a challenge figuring out how to play someone older, but I've watched my grandma and tried to apply it to my character."
She likes the "Rag Dolls" number because "it's high-energy and all the children in the audience really respond to it. You can see their faces from the stage and they really get into it. Our wreath number at the end is also really cool, and the audience won't know what we're creating until we're done. The show is really upbeat and will keep everyone engaged."
Showtimes are Friday, Dec. 13 and 20, at 8 p.m.; Saturday, Dec. 14 and 21, at noon, 4 p.m. and 8 p.m.; and Sunday, Dec. 15 and 22, at noon and 4 p.m., at NOVA's Richard J. Ernst Community Cultural Center, 8333 Little River Turnpike in Annandale. Ticket information is at www.encore-tap.org.