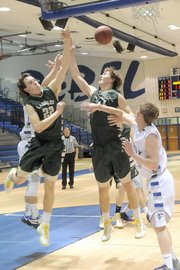 Scott Newman spent four years as an assistant with the Langley boys' basketball team, learning under head coach Travis Hess while experiencing four consecutive regular-season Liberty District titles.
This year, Newman will take what he's learned and add his own wrinkles as leader of the program.
Newman enters the 2013-14 season as head coach of the Langley boys' basketball team, earning a promotion after Hess left to take the boys' head-coaching job at South County. The Saxons are young, beginning the season with two sophomores and a freshman in the starting lineup, but Newman said the team had a promising preseason.
Last year, Langley lost to McLean in the district tournament semifinals and Wakefield in the region tournament quarterfinals.
"Some things will be similar and some things will be different," Newman said of the Saxons under his leadership. "I certainly learned a lot form Travis. Having been there that long, a lot of things we did had my fingerprints on them. … I'm trying not to do things [just] because that was the way we used to do it. I'm trying to take it as a cool opportunity to [evaluate] how we've been doing things and find little things to tweak."
On defense, Newman said he originally planned for the Saxons to play man-to-man, rather than the zone approach of previous seasons. However, the offseason performances of sophomore forwards Nate Shafer (6 feet 4) and Chris Miner (6-2) caused the coach to change his mind and stick with the zone, despite the graduation of 6-foot-6 shot-blocker Brad Dotson. Newman did say the Saxons would like to incorporate some man-to-man press.
"They both have really good length and some shot-blocking ability," Newman said about Shafer and Miner, "so we decided that we are going to play zone again."
Shafer and Miner will begin the season in the starting lineup, along with senior guard Ross Callaghan (5-11), freshman guard Aaron Kim (5-8) and junior guard Christian Gaibler (6-2).
Kim, who was the quarterback of the Langley freshman football team, made four 3-pointers in a recent scrimmage. Newman said Kim has some "ridiculous handles."
Newman said Callaghan is one of the Saxons' top two players. Langley's other standout, senior guard Garrett Collier (6-2), suffered a broken collar bone during football season and is expected back in January, Newman said. Callaghan and Collier are each three-year varsity athletes.
"The two of them together make up one of the most experienced backcourt duos in the region."

--- Langley boys' basketball coach Scott Newman about Garrett Collier and Ross Callaghan
"The two of them together," Newman said, "make up one of the most experienced backcourt duos in the region."
Senior forward Austin Denham (6-3) is also expected to be a key contributor.
Newman, who graduated from Yorktown High School in 2003, said one of the biggest challenges transitioning from assistant to head coach was getting players to view him as the latter. The offseason, Newman said, helped with that transition.
"Being an assistant in the program, moving to head coach has its advantages and its challenges," Newman said. "I think the advantage is you kind of know the kids … [and] you kind of know how things go. There's certainly a challenge to get the kids to flip the switch and see you as a head coach and not an assistant."
The Saxons will open the regular season on Friday, Dec. 6 against Stuart at 7:30 p.m. during the Stuart Tipoff Tournament. Langley's first home game is Dec. 11 against Potomac School.