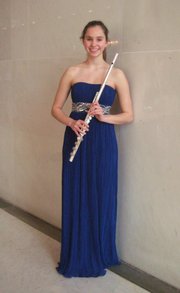 James Madison High School senior, Olivia Staton, 16, will appear on a national broadcast of From the Top on NPR, the pre-eminent showcase for America's best young classical musicians, hosted by acclaimed pianist Christopher O'Riley. The episode will air locally on 90.9 FM on Dec. 22 at 6 p.m.
On the broadcast taped at Wingate, N.C., on Nov. 23, Staton performs "Chant de Linos" by Andre Jolivet.
Staton, 16, a senior at James Madison High School, is in her second year in the National Symphony Youth Orchestra Fellowship Program where she studies with NSO principal flutist Aaron Goldman. She has been principal flute of the American Youth Philharmonic Orchestra for the past three years, and has won numerous awards for her performances including first place in the Richmond Flute Competition, second place in the U.S. Navy Band Concerto Competition, and third place in the Duquesne Concerto Competition. Olivia is a member of the National Honor Society, Tri M Music Honor Society and French Honor Society. She has attended the Boston University Tanglewood Institute for the past two summers.
What began as a radio experiment in 2000 quickly became one of the fastest growing and most popular weekly classical music programs on public radio. Broadcast on over 200 stations nationwide to an audience of 700,000 loyal listeners, From the Top has been described by the Boston Globe as "an entertaining, accessible and inspirational mix of outstanding musical performances, informal interviews, skits and games; the show is a celebration of extraordinary musicians who happen to be teenagers leading fairly normal lives."
Learn more at www.fromthetop .org.