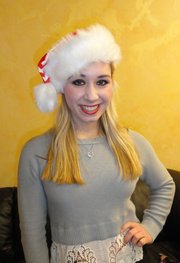 When a precocious, young girl changes places with a playful elf at the North Pole, things are bound to go awry and only Santa can save the day. That's the premise of Encore Theatrical Arts Project's new holiday show, "Switching Christmas," and one of the performers is McLean High senior Emma Konnick.
She plays an elf named Cheeky and is delighted with her role. "Cheeky cares about what's happening, but waits for the other elves to get involved in things before she joins in," said Konnick. "She's girly and cutesy, and I see her in me so it's easier to take on this role and add elf characteristics to it."
Konnick especially likes the finale, "Snow," because it's a 12-minute number. "We did it my first year with Encore, when I only got to do one costume change within it," she said. "But now I get to do five costume changes. There's a ballet section and it snows, and we're dressed as snowflakes and gift boxes."
She's been with Encore four years and calls the experience a "turning point" in her career. "It's opened up so many doors for me," she said. "I travel an hour to get to the studio in Chantilly, but it's so worth it." As for the show, she said the audience will enjoy "how everything ties in and how well the plot and all the dances mesh together."
"It's a heartwarming story and a love story, too," said Director and Choreographer Raynor van der Merwe. "It's also about wanting to be other places, but learning that what we need is right under our noses at home."
Show times are Friday, Dec. 13 and 20, at 8 p.m.; Saturday, Dec. 14 and 21, at noon, 4 p.m. and 8 p.m.; and Sunday, Dec. 15 and 22, at noon and 4 p.m., at NOVA's Richard J. Ernst Community Cultural Center, 8333 Little River Turnpike in Annandale. Ticket information is at www.encore-tap.org.
"Switching Christmas" offers the magic of the season in an original dance musical. The cast of nearly 50 includes students from Centreville and Chantilly schools, plus professional actors Dan and Tina Delafield.
"People looking for something different than the traditional 'Nutcracker,' 'Messiah' or 'Christmas Carol' will really enjoy this show," said van der Merwe. "The dancers have been rehearsing since July and spend 20-25 hours a week in the studio."
"We have lots of newcomers, but also a great group of seasoned performers setting a good example for the younger ones," she continued. "There are so many exciting dance numbers that'll keep young kids entertained, plus a great story that everyone will enjoy. We've got old favorites, plus new numbers, so there's something for everyone. And, visually, it'll be spectacular – it truly is a family musical."