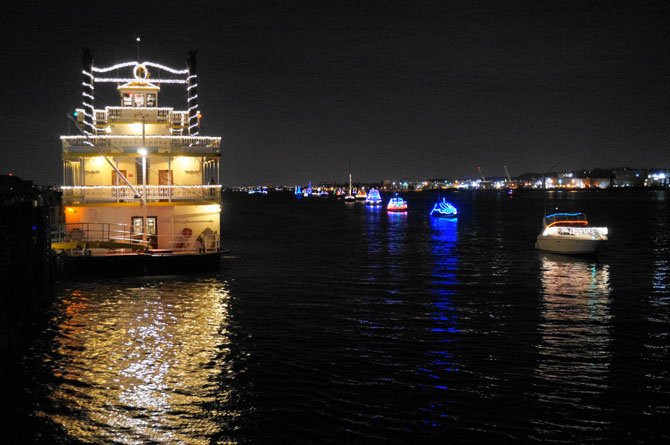 Crowds lined Alexandria's waterfront Dec. 7 as nearly 40 boats cruised the Potomac River to take part in the 14thAnnual Holiday Boat Parade of Lights. The parade's Best in Show went to Firefly, a 25-foot sailboat featuring a tribute to the classic film "A Christmas Story," complete with a leg-shaped lamp and the crew dressed in pink rabbit pajamas.
The Colonel's Lady snagged Most Animated with the theme "Moonwalking Dinosaur" after transforming the boat into a massive Tyrannosaurus Rex whose light-strung legs danced to music. The yacht Act of Grace took the prize for Thinking Outside the Christmas Box with a giant menorah protruding from its deck.
The complete list of 2013 winners: Best in Show - Firefly, Cpt. Dave Easter; Best Sailboat - Stargazer, Cpt. Susan Antoinette; Best Powerboat - Tar Keel, Cpt. Justin Chambers; Most Animated - The Colonel's Lady, Cpt. Matt Martelli; Most Holiday Cheer - Morale Gear, Cpt. Jodie Knox; Thinking Outside the Christmas Box - Act of Grace, Cpt. Walter Weiss; Hardiest Souls - Triple Trouble, Cpt. John Mein; Best Theme - Jobsite, Cpts. Darrell & Claudia Edgar; Most Spirited Crew - Unusual Attitude, Cpt. Jeffrey Leach; Best Spirit of America - Plan B, Cpt. Samuel Hepford; Best Try - Pistrix, Cpt. Doug Wood; Honorable Mention - Wii Fish, Cpt. Valerie Whitcomb; Honorable Mention - Big Blind, Cpt. David Hays.
The parade was emceed by WTOP's Man About Town Bob Madigan and judged by Jody Manor of Bittersweet Café and the Waterfront Market, Willem Polak of the Potomac Riverboat Company, Stephanie Landrum of the Alexandria Economic Development Partnership and Dee Beresford from the Old Dominion Boat Club Board of Governors.
This year's boat parade was sponsored by the Old Dominion Boat Club in partnership with the Washington Waterfront Association with support from the Alexandria Convention and Visitors Association.