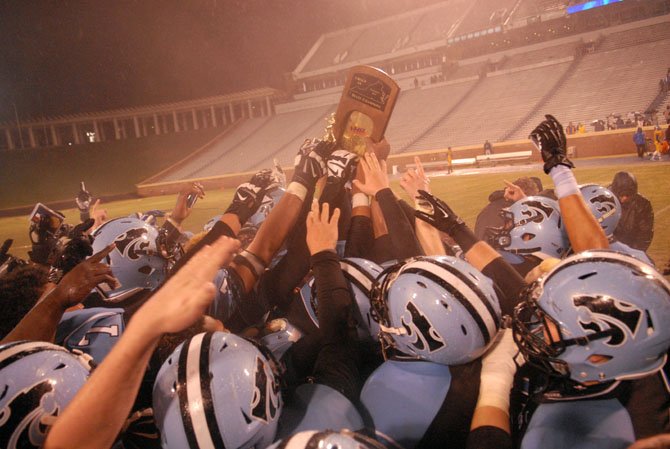 Opponents rarely challenged the Centreville football team during the 2013 season. But once the Wildcats reached Saturday's VHSL Group 6A state championship game, winning the program's first title in more than a decade would require knocking off an opponent recognized on a national level.
The Oscar Smith football team arrived in Charlottesville with the resume of a powerhouse. The Tigers had the numbers: They were undefeated and ranked No. 8 nationally by USA TODAY. Oscar Smith had surrendered just 68 points in 14 games (an average of less than 5 per game) while only one team, Western Branch, had managed to score 14 points against the Tigers in a single game. Meanwhile, Oscar Smith averaged more than 45 points per contest, scoring at least 35 in all but two games.
The Tigers had the players: Six-foot-4, 300-pound senior Andrew Brown is the nation's No. 1-rated defensive tackle prospect, according to ESPN.com, was named Gatorade National Player of the Year and is committed to the University of Virginia. Senior receiver Jaylen Bradshaw is committed to Virginia Tech.
The Tigers even had history: Oscar Smith defeated Centreville 47-21 in the 2011 AAA state championship game.
None of it mattered.
"It's certainly the best team that I've ever been around in 21 years of coaching high school football. … We actually talked to our kids a lot about our place in history and setting a higher standard and that's something that the kids wanted to do. They wanted to make history. I don't know where you place us in the all-time teams, but we're certainly one of the best in Northern Virginia and we're definitely the best at Centreville."

--- Centreville football coach Chris Haddock
Centreville dominated Oscar Smith on both sides of the ball on Dec. 14, capping the greatest season in school history with a 35-6 victory on a cold, wet night at UVa's Scott Stadium. The Wildcats captured the school's first state championship since 2000, finished the season with a 15-0 record and ranked No. 15 in the country by USA TODAY.
"Today, all the credit goes to Centreville," Oscar Smith head coach Rich Morgan said. "They flat-out out-played us, out-hit us; they honestly just did things to us today that we usually do to everyone else."
Centreville's impressive performance started with a touchdown on its opening possession. The Wildcats' momentum grew with a defensive score minutes later. Centreville's dominance concluded with hoisting the trophy and leaving a story of success on the stat sheet.
A glance at the final stats speaks of Centreville's dominance. Total yards: Centreville 338, Oscar Smith 88. Rushing yards: Centreville 327, Oscar Smith 14. Time of possession: Centreville 34:02, Oscar Smith 13:58.
How did the Wildcats pull it off?
On offense, Centreville adjusted its usual game plan, opting to run right at Oscar Smith.
"We really felt like in all the films that we saw on Oscar Smith that nobody really went at them," Centreville head coach Chris Haddock said. "We felt like that was the right plan. We certainly knew that they had some great football players but we felt like that we could run straight ahead against them. We felt like our speed could be matched by their speed, so we felt like we wanted to be as physical as we could and we felt like that we had certain plays and certain schemes that we felt very confident that were going to be successful.
"We've run [the plays] all year. Really, our game plan every game this year has been, let's work the outside and then we'll work back in, and today was just the opposite. We worked the inside to try to get out. We [felt] pretty good about our plan. Our coaches did a great job putting that plan together and the kids just did a great job executing."
What did the Centreville offensive line do that allowed the Wildcats to run for 327 yards?
"Their cut blocks were more efficient, I'll give them that," said Brown, who ESPN.com ranks as the nation's No. 4 recruit at any position. "Penetration-wise, we were there, but it just didn't turn out the way we wanted it to. They weren't physically better than us, they just schemed well and they got the best of us."
Centreville junior A.J. Turner carried 18 times for 175 yards and two touchdowns. Senior quarterback Scott Walter carried 22 times for 90 yards and two scores. Junior fullback Taylor Boose had 16 carries for 62 yards.
Turner gave Centreville a 7-0 lead with a 52-yard touchdown run on the game's opening drive.
"I think it built my confidence a lot," Turner said. "At first I was kind of nervous. The (Oscar Smith) D-line is really good and the linebackers are really solid. But after I scored the first time, I was like they're not unstoppable and I'm definitely capable of doing what I'm doing."
Centreville didn't take long to increase its lead. Oscar Smith faced second-and-14 on its first possession when Centreville junior Xavier Nickens-Yzer intercepted Tigers freshman quarterback Shon Mitchell and returned it 65 yards for a touchdown, giving the Wildcats a 14-0 lead.
"I think," Haddock said, "[the Tigers] were probably more shocked than we were excited."
Centreville increased its lead to 21-0 when Walter scored on a 1-yard sneak with 44 seconds remaining in the second quarter. Oscar Smith entered Saturday's state championship game having allowed just one opponent to score 14 points in a single contest. The Wildcats surpassed that mark in the first half.
On defense, Haddock said facing "dynamic" players like West Potomac running back-turned-quarterback DeMornay Pierson-El, who is committed to the University of Nebraska, and Westfield running back Tyler Thrasher-Walker during the season helped prepare the Wildcats to take on Oscar Smith's playmakers. Centreville linebacker Chad Wiggins said preparation was the key to shutting down the Tigers. Centreville held Oscar Smith to less than 100 yards of total offense and forced four turnovers.
"Every day in practice we go through it," Wiggins said. "We know each play before it's going to be snapped and that was the key this week. We needed to study hard and we needed to come out ready to play and that's what I think we did. It's all about preparation."
Centreville led 21-0 in the third quarter and drove to the Oscar Smith 26-yard line, but the scoring threat ended when Walter was intercepted by Tigers defensive back Keyvone Bruton. Instead of capitalizing on the takeaway, Oscar Smith fumbled on the next play and Centreville defensive lineman Christian Brooks recovered the ball at the Tigers 12-yard line.
Four plays later, Walter scored on a 1-yard sneak to give Centreville a 28-0 lead.
"It was definitely a roller coaster after I threw the pick," Walter said. "I got to the sideline and coach (Steve) Fox came over to me and was like, 'Shake it off, we'll get the ball back.' And as soon as that happened, we got the ball back and went down and scored."
Oscar Smith's lone score came on a 25-yard touchdown pass from Mitchell to Kamathi Holsey with 11:46 remaining in the fourth quarter. Centreville blocked the extra point.
Turner scored Centreville's final touchdown on a 3-yard run with 2:27 remaining in the contest.
Tyler Love led Centreville with seven tackles, including four solo stops. Brooks had two sacks and a fumble recovery. Wiggins and Jordan Brooks each had one sack and a forced fumble. Jordan Brooks also had a fumble recovery.
Nickens-Yzer finished with two interceptions.
Centreville finished the season outscoring its opponents 680-169. The Wildcats' smallest margin of victory was 20 points.
"It's certainly the best team that I've ever been around in 21 years of coaching high school football," Haddock said. "… We actually talked to our kids a lot about our place in history and setting a higher standard and that's something that the kids wanted to do. They wanted to make history. I don't know where you place us in the all-time teams, but we're certainly one of the best in Northern Virginia and we're definitely the best at Centreville."