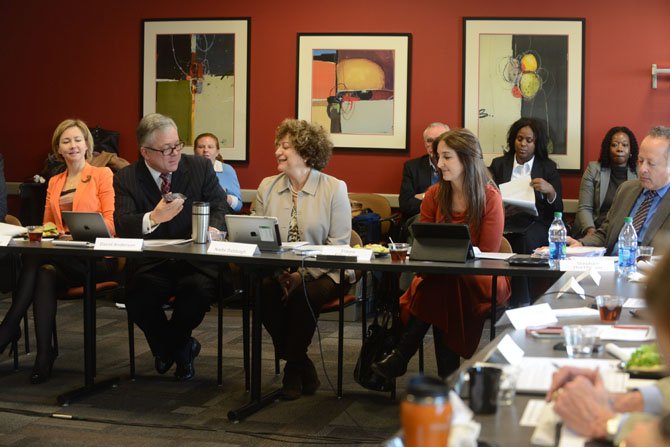 On Dec. 2, Delegate Eileen Filler-Corn (D-41) co-hosted a forum with David Anderson, executive director for Higher Education, Association of American Publishers and Nada Dabbagh, professor and director of Division of Learning Technologies, George Mason University to discuss new technologies and affordable options for higher education textbooks. This forum brought together several important stakeholders involved with higher education and the development and usage of textbooks.
"I was honored to lead this forum that continued the vital discussion of how we can reduce costs for our students and families through the use of new technology and resources in textbooks and class materials" said Del. Filler-Corn. "We have continued to see a rise in the price of textbooks and other auxiliary materials in higher education. We need to use new resources as a way to reduce costs and ensure that students are getting the most out of their higher education."
This forum was the result of a yearlong discussion from Delegate Filler-Corn's 2013 bill, HB 1777, with a goal of creating an Open Education Resource Council tasked with developing and acquiring open education resources that could be provided at no charge to students. This bill was referred to the Joint Commission on Technology and Science during the 2013 General Assembly session and has drawn wide interest from different parties. The primary focus of the forum held at George Mason University was a discussion of Virginia colleges and universities using open education resources (OER). OER materials are textbooks or other auxiliary resources developed and produced with no copyright restrictions. This makes them available for anyone to access and use at their disposal. Often these materials are developed by university professors with expertise in their field and peer reviewed for accuracy of information.
"Several states are currently utilizing OER materials as a way to reduce cost burdens on their students. These books are available at no charge and accessed digitally at the student's convenience. This is an excellent method to increase affordability, while still providing accurate information and quality material," Del. Filler-Corn said.
Representatives from George Mason University, the State Council of Higher Education for Virginia (SCHEV) and the VCCS attended the forum to add their input on the idea. Additionally, representatives from the major textbook publishers and Fairfax County Public Schools were also in attendance.