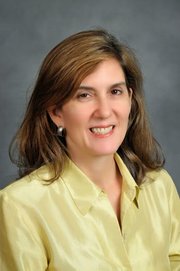 Elizabeth Morton, president, McLean Revitalization Corporation (MRC)
*Some 2013 highlights:
Downtown McLean still has a ways to go to become a truly pedestrian and bike-friendly environment, but with our partners in the business community, civic groups, Supervisor Foust's office and County staff we are seeing slow but steady progress.
We finally saw the completion of the utility undergrounding project at our main downtown intersection (Old Dominion and Chain Bridge Road). The finishing touch will be the replacement of the unattractive traffic signal wires with mast arm poles next year.
This is not visible yet, but 2013 saw plans moving forward for a major streetscape project in the central business district, improvements to pedestrian safety, a landscaped gateway median near "Balducci's Plaza," and gateway signage at key entrances to the business district.
I'm excited about the new bike directional signage and bike racks coordinated by the Chamber of Commerce, individual businesses, the Supervisor's office and County staff.
I'm also excited by the new McLean Senior Source Initiative. McLean is a great place for families like mine -- two kids, two cars, a big yard and a dog – but we have to be sure McLean is accessible and appealing to a range of ages and life stages. We may have an influx of residents downtown if new proposals get approved, and cities across the country have learned that features like walkability, convenient transit, vibrant local businesses and central amenities are critical in attracting and supporting both seniors and millennials.
*Some big events to watch out for in 2014:
Tysons Corner metro stops will open and we will start seeing significant transformation in that area. We hope this represents an opportunity and not just a threat or an inconvenience for downtown McLean businesses and residents. In 2014 the MRC plans to work with the Chamber of Commerce to encourage local businesses and property owners to support placemaking and joint marketing efforts that could enhance the identity of our local business district. Improving our downtown is obviously contingent upon the investment and vision of the private sector.

I was excited to see the outpouring of public interest in enhancing the pedestrian and bike environment in the recent discussion about the allocation of new transportation funds; I hope that keeps up in 2014 and beyond. Like many communities across the US, McLean has been planned with the primacy of the car in mind. Many of us will continue to rely on the car for a lot of our daily needs, but we need a wider range of transportation choices. We should make sure our streets are safe and attractive for strollers, bikes, transit riders and senior citizens.