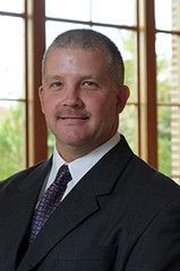 Chief of Police Jim Morris has announced the appointment of Daniel Janickey as Vienna's new Deputy Chief of Police. He will succeed Captain Mike Miller, who retired on Oct. 1, after serving 29 years with the Vienna Police Department.
Janickey was selected from among 103 candidates. "Dan has over 24 years of local law enforcement experience and brings with him a very diverse resume of accomplishments," said Chief Morris. "He will be a great addition to the Town of Vienna Police department and the community." Commenting on Chief Morris' selection, Town Manager Mercury Payton said, "This selection for Deputy Chief is indicative of the Town's commitment to excellent service. I expect that Dan will immediately assist the Chief in advancing the goals for the department."
Janickey began with the Fairfax County Police Department in 1989 as a police officer and has held several positions during his career with the department, most recently serving as Commander of the McLean District station. He has held several leadership roles within the County's police department including positions in hostage negotiations, special operations, incident support services and peer support, and internal affairs. Janickey also held the position of Assistant Commander of the Franconia District station and has previously worked out of Sully District and the Mason District stations.
Janickey holds a Bachelor's Degree in Criminal Justice from Bluefield College in Bluefield, Va. and completed the Executive Leadership certificate program at American University in Washington, D.C. He holds several professional certifications including leadership, hostage negotiations, emergency management, crisis intervention, interrogation, public speaking and investigations.
Janickey will assume his official duties with the Town of Vienna on January 21, 2014.