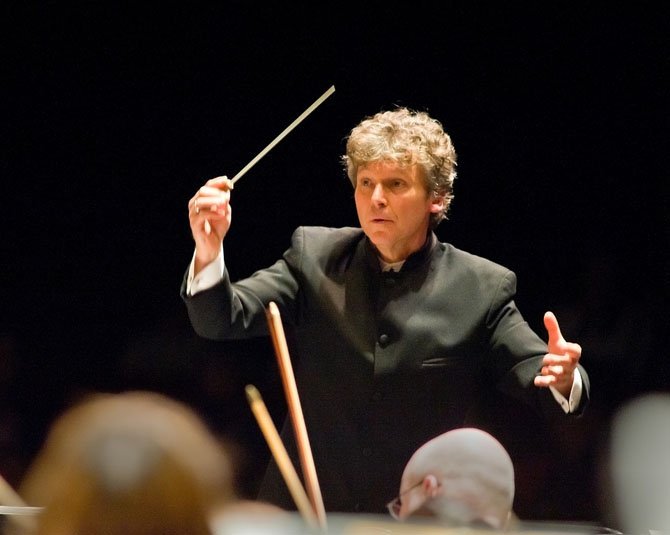 Have you heard? The next performance of the Fairfax Symphony Orchestra (FSO) chamber series, will be in a special location; the Harris Theater at George Mason University. It will give audiences an intimate setting to encounter first-class classical music. As a unique treat, there will be an after-performance event bringing the music, the musicians and the audience even closer together.
According to FSO Music Director Christopher Zimmerman, the new venue for the Jan. 18-19 performances "will allow for an intense interaction" between audience and the FSO. He selected music that "reflects this in its emotional charge and content; that is, a concert which leans more towards the intense, personal and intimate experience."
Zimmerman wove together a musical concert to celebrate the 100th birthday of Benjamin Britten, one of the 20th Century icons of classical music with compositions by Edward Elgar and Dmitri Shostakovich. "It occurred to me that the focus on him [Britten] could be deepened by pairing him" with other major modern composers.
The performance will include Britten's "Serenade for Tenor, Horn, and Strings" with William Hite, Tenor, Shostakovich's "Chamber Symphony in C Minor," Britten's "Simple Symphony" and Elgar's "Serenade for Strings."
Describing the concert in visual imagery Zimmerman called Britten's "Serenade" a "rich and multi-layered" poem. "The music is highly expressive and concentrated atmospheric: the sense of night, sleep, shadows, farewell and other nocturnal elements are omnipresent, as well as the opposite allusions to greetings and love."
The Britten "Simple Symphony" is a "hugely precocious and fun early work...Bright, sparkling, youthfully energetic with unambiguous emotions," said Zimmerman.
Where and When
Fairfax Symphony Orchestra performing at the Harris Theater, George Mason University, 4400 University Drive, Fairfax. Performances Saturday, Jan. 18, 2014 at 8 p.m., and Sunday, Jan. 19, 2014 at 2 p.m. Tickets: $25-60. For information call 703-563-1990 or visit: www. fairfaxsymphony.org.
Zimmerman said the Shostakovich "Chamber Symphony" was "one of the most direct and simply-stated of all his works, capturing the horrors of Stalinist-Soviet repression and the composer's life within that, in all its sorrow and hopelessness." Elgar's "Serenade for Strings" was described as "strongly wistful."
The Harris Theatre, with its 460 seats, is noted for a "live" acoustical sound well suited to music events such as an FSO chamber performance.
When asked to sum up how music can affect a listener, Zimmerman said, "in both the sounds and what lies behind them, [music] heightens and enriches our perception of life." He added that musical entertainment can be like poetry, "there are no hard and fast rules. It's not cool or uncool, it's not fashionable or unfashionable." Just open yourself to it. Let it resonate inside you. Enjoy.