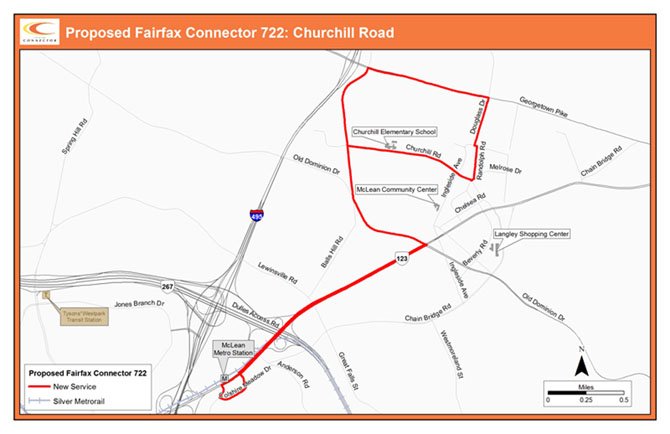 McLean — The Fairfax County Department of Transportation kicked off the public input process for their new bus routes in McLean Thursday, Feb. 1. The Fairfax Connector routes will be altered to take advantage of the opening of Metrorail stations in Tysons Corner and Reston in December, with the new routes expected to begin the same day as the stations open.
"Forty-two percent of our service routes will be changing by the end of the year," said Christy Wegener, customer service operations manager with the Fairfax Department of Transportation. "By no means do we have a final plan worked out, we've just created potential routes for this first round of public input. By April, we'll be closer to final plan."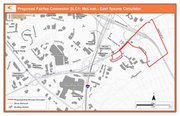 THE PLAN currently calls for 12 new Fairfax Connector routes, realignment of 21 routes and six are recommended for elimination. Routes in McLean and Vienna will be created to serve the four Metrorail stations in Tysons Corner, and four routes will be added to the Silver Line Circulator, with one running to each new stop in Tysons.
"One of the goals with eliminating routes is to take advantage of the rail to move people along specific routes in Tysons Corner, then redirecting those resources to other routes," said Eric Teitelman, division chief of Fairfax Connector. "Most routes will be changing from every 30 minutes to every 15-20 minutes, and ones that were an hour will go down to about 30 minutes. This can happen because we're re-using our resources."
While the routes are aimed at increasing circulation among Tysons Corner, some residents felt it is coming at the expense of residents of the Pimmit Hills and western McLean.
"I know Tysons is going to be a priority when it comes to numbers of passengers moving to and from, but I'm not thrilled with what looks like a lack of routes to get McLean residents, particularly those in the west, to get people into Tysons Corner," said Greg Florence of McLean. "We're the ones paying for the new Tysons service tax district, it would be nice if we could see some increased level of transportation service for our money."
ANOTHER AREA OF CONCERN for many local residents is the 722 route, which would go along Churchill Road, much to the dismay of local residents. Wegener said that has been a chief point of contention since the public comment period opened.
"We will be developing two alternate routes for the 722, one of which will not go along Churchill Road," she said.
Fairfax Connector will be taking public comment through Feb. 15 for the first phase of public outreach. They will then use those comments to solidify route alignment, and begin a second round of public outreach in April.
Teitelman said that residents who wish to comment on proposed routes will be best served by submitting them in writing, whether online, through e-mail or regular mail.
The final plan is scheduled to go before the Board of Supervisors in May.
Once the plan is approved, the kick-off event will take place at Celebrate Fairfax from June 7 to 9, and marketing efforts will begin in the summer.
More information, as well as links to provide feedback on the new routes, can be found at www.fairfaxcounty.gov/connector.