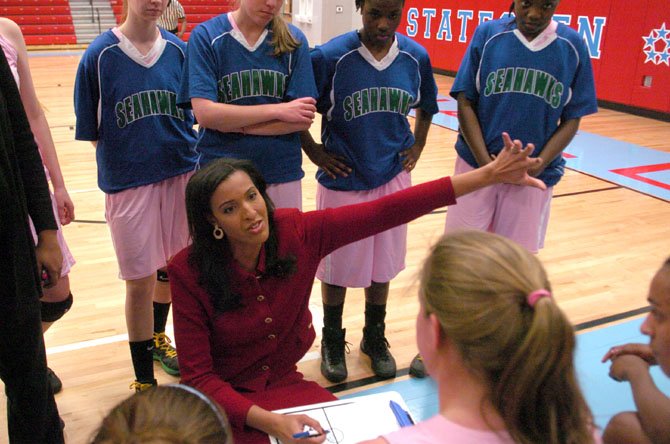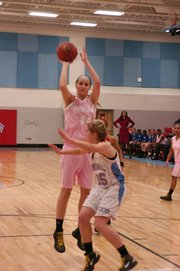 Falls Church — South Lakes girls' basketball coach Christy Winters-Scott said her team "didn't play like I know we know how to play" following Friday's contest against the Marshall Statesmen.
The Seahawks won by 13 points, anyway.
South Lakes center Abigail Rendle was frustrated at times with her inability to secure the basketball, saying she had "butterfingers."
The junior finished with 22 points.
Winters-Scott said sophomore Princess Aghayere passed up shot attempts near the rim.
Aghayere made an impact with 12 rebounds.
Facing a Marshall team in search of its first Liberty District victory this season, South Lakes beat the Statesmen 45-32 despite a less-than-stellar effort on Feb. 1 at Marshall High School. The Seahawks beat Thomas Jefferson 53-48 on Saturday and lost to Madison 45-42 on Monday, moving their record to 18-3. Despite losing to the Warhawks, South Lakes sits atop the Liberty District standings at 11-2 with one regular season game remaining—a Feb. 8 home contest against Stone Bridge.
SOUTH LAKES CAN WIN on an off-night and is in position to enter the district tournament as the No. 1 seed thanks in part to the size and performance of post players Rendle and Aghayere. Rendle, listed at 6-foot-4, scored 22 points against Marshall. She struggled at times handling the ball, but the junior also showed her athleticism, scoring multiple transition buckets.
"For both [Rendle and Aghayere] to be in there together, I think it really gives us a special look."

—South Lakes girls' basketball coach Christy Winters-Scott
"I was getting frustrated about dropping the ball a lot—butterfingers," Rendle said. "I've got to move past that."
Rendle finished with five rebounds, three blocks, two steals and an assist.
Aghayere, listed at 6-foot-2, finished with two points, one block and an assist, but her biggest contribution came on the glass as she finished with 12 rebounds. Aghayere's explanation for her mentality as a rebounder was simple: "Just to stop the girl next to me from getting it and then just going after it."
Winters-Scott credited Aghayere's "heart" for the sophomore's ability to grab boards, calling her a "determined soul."
"Princess is only in 10th grade and the upside is tremendous for her," Winters-Scott said. "She has really—especially in the second half of our season—changed the pace in terms of the production that she's been giving us. … On the boards, she's been steady for us. … For three years, [Rendle has] been an advantage for us inside. For both of them to be in there together, I think it really gives us a special look."
MARSHALL, which entered the contest with a 4-15 record, pulled to within eight when Lexi Stalcup buried a 3-pointer with 3:38 remaining in the fourth quarter, but South Lakes responded by scoring six of the game's final seven points.
Gabrielle Schultz finished with six points, six rebounds, three assists and three steals for the Seahawks. Mary Severin, Sasha Sprei and Caitlin Jensen each had four points.
South Lakes will close the regular season at home against Stone Bridge at 5:45 p.m. on Friday, Feb. 8, before entering the district tournament. Last season, the Seahawks lost to Madison 78-47 in the Liberty District championship game before suffering a 68-48 loss to Annandale in the opening round of the Northern Region tournament.