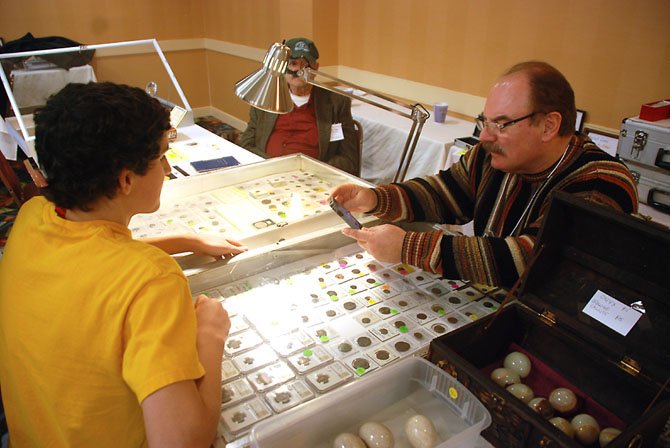 According to the Alexandria Coin Club, money may be the root of many things, but evil isn't high on the list. Nearly 1,000 members strong—the American Numismatic Association ranks it near the largest of its kind in the country, if not the world—this group is more focused on sharing and promoting the members' passions for collecting, trading and history. Of course, increasing club membership and exposing youth to the power of the purse, so to speak, are also key objectives. All facets of the organization were on display Saturday, Feb. 2, at their Alexandria Coin Show in Springfield's Holiday Inn Express.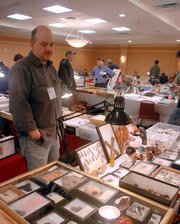 Visitors were greeted by a wide range of collectible currency—gold, bronze, silver, paper—from all over the map, and all over the history books. Joe Riggs, a part-time collector-dealer in town for the show from Virginia Beach, focuses on coins from Ancient Rome. His collection includes a "Tribute Penny" for each of 81 Roman emperors ("I read a book called 'Money of the Bible,'" he said, "and got a Widow's Mite, then there was really a hook") and boasts a coin from the Artaxerxes period in Persia, dated 400 BCE and valued at $150.
For the several years, the club has hosted its show in Annandale, but decided to change things up for 2013 in an effort to see if the new location would draw a different or larger crowd of currency enthusiasts. At just 50 tables, this show was smaller and much more intimate than others on the east coast, such as Baltimore's Whitman Expo, which takes over a convention center with as many as 500 tables.
ACC president "Boots" Barnes, an Alexandria resident and retired Navy aviator, believes the smaller size is better for facilitating the interactions that drive the ideals of the study and appreciation of all currency, known as Numismatics. People are less overwhelmed by the sheer number of tables and feel more comfortable spending time conversing with each other.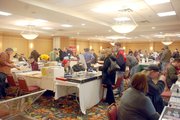 "This is more for the collector, the membership—for exchanging, collecting, learning," he said. "These are experts that are in there." Some of the tabled experts are club members, some are dealers from Maryland or Pennsylvania; all are here to buy, sell, educate and learn.
Stories are an integral part of the collecting activity, whether it's a hobby or a profession, and the power of the story can add both emotional and financial value to a coin. During the show, the ACC led a demonstration for visitors in the vein of discussions that occur at monthly club meetings in Alexandria's Lee Center: members showed coins and explained how their trading has changed, as well as the impact on history.
"Certain coins from the Civil War are hard to find," said Barnes, "because during that time, soldiers and civilians only carried nickels, dimes and pennies in their pocket. They got worn, lost in the battlefield. You'll find plenty of silver dollars and half dollars, because they didn't carry them." Barnes and the ACC hope this kind of story captures the imagination of adults as well as children, igniting passions for collecting and trading that can continue for years.
As Barnes put it: "It gives a kid—maybe a kid who's not athletically inclined—a chance to learn something else, to learn history. They learn the value of the money, how it was built, how it was minted—and how the US and other countries dealt with currency."
Nowhere was the success of this goal more evident than with a pair of brothers. The two have collected and traded coins from a young age, when an Indian Head Penny from their mother first got them interested in the activity as a complement to playing basketball. "We like history, and it keeps us occupied," said the younger of the two. As long as the brothers keep dealing in pennies, this educational hobby shouldn't break the bank.