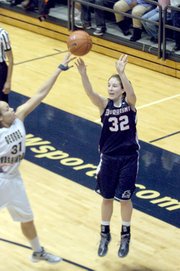 April Robinson was a scared freshman when she arrived at Duquesne University in Pittsburgh. The former West Springfield standout was entering the world of Division I college basketball and wasn't sure of her place among her elder teammates.
"When she came on a visit, she was really quiet," said Duquesne junior forward Orsi Szecsi, who was Robinson's host during her visit. "I was the only person that she was talking to. When she came for school, she opened up, but she was a weak freshman, so we always made fun of her. She would just give you the look, the 'What's going on,' just staring at you, blank behind the eyes."
While Robinson's teammates gave her a hard time, and the freshman is still working on the whole "quiet" thing, the 2012 West Springfield graduate has shown the Dukes—and the rest of the Atlantic 10 Conference—there's nothing weak about her game.
Robinson, a 5-foot-8 point guard, earned a starting role and never let it go. Not only did Robinson secure a position of leadership as a true freshman—and the only freshman on the Duquesne roster—she has thrived in it. In 21 games, she's second on the team in scoring (9.0), minutes per game (27.8), assists (2.5) and total steals (31). She has twice been named A-10 Rookie of the Week (Dec. 3, 31) and has played a major role in Duquesne posting a 17-4 record. As of Wednesday morning, the Dukes were third in the A-10 with a 6-1 record, behind Dayton (7-0) and Saint Joseph's (6-0).
Robinson hasn't been overwhelmed by playing such a prominent role.
"You just play. Starting as a freshman and playing a lot of minutes, it doesn't really mean anything because you go into each practice, each game like it's your last," Robinson said at George Washington University's Smith Center on Wednesday, Jan. 30, after the Dukes beat the Colonials 63-59 in double overtime. "You've just got to do whatever it takes to help your team get the W."
"She's come in, in my mind, and exceeded expectations."

—Duquesne women's basketball coach Suzie McConnell-Serio
Robinson struggled during her first trip back to the Washington, D.C., metro area as a collegiate athlete. She scored three points on one-for-eight shooting, grabbed two rebounds and snagged one steal in 28 minutes. Still, Duquesne head coach Suzie McConnell-Serio trusted Robinson enough to have her on the floor with the game on the line in the fourth quarter and overtime.
"She's come in, in my mind, and exceeded expectations," said McConnell-Serio, who received the 2004 WNBA Coach of the Year award with the Minnesota Lynx. "She has been tremendous from the beginning and competed. She has always been poised. … We're better with her as a point guard. She makes plays, she scores, she creates … she really understands what we're trying to do offensively and defensively and she's amazed me from the beginning of the season until now."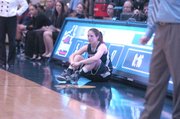 Robinson said the size, quickness and physicality of opponents on the college level are some notable differences from playing high school ball, but the biggest change has been dealing with full-court pressure: "You can't really breathe," she said.
While Robinson has progressed on the court, she also started to find things easier off the court, as well.
"When I first got there, I was really quiet," Robinson said. "I only talked to probably one person. I was scared of the older girls. Coming in as the only freshman, you don't know where you stand, but I've developed a good friendship with each and every one of those girls and we're a family. They've got my back, I've got their back."
Duquesne's next game is at home against St. Bonaventure at 7 p.m. on Thursday, Feb. 7. Robinson said she's still working on talking more and speaking louder on the floor so her teammates can hear her. While that's a work in progress, her performance on the court has spoken volumes about her leadership and ability.
"We basically build on her," Szecsi said. "I'm real proud of her because not many freshmen can do that at her position."