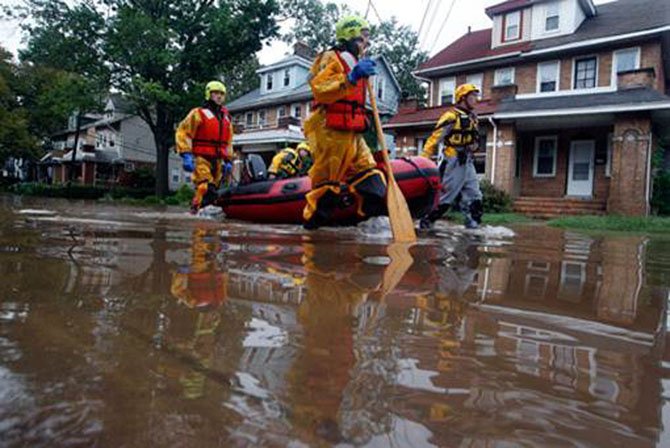 Fairfax County voters may have approved a $30 million floodwall for Huntington, but neighbors in this working-class neighborhood don't seem particularly satisfied. Instead, they look to every major storm event with fear and trepidation, lugging out the sandbags and preparing for the worst.
Again.
The last few years have been devastating for Huntington, a low-lying warren of streets near the border with the City of Alexandria. In 2009, residents here dealt with a devastating flood. Then, in 2011, another devastating flood. Many neighbors just recently finished renovations from the last flood. So the threat of yet another flash flood as the result of a winter storm became an unsettling reality.
"We're blue collar, so they could care less about us," said Randy Huggins, who has lived in Huntington since 1985. "If this was happening across the bridge in Old Town Alexandria or Reston or Herndon or Belle Haven, this would have been fixed immediately."
Many neighbors here blame the construction of the Woodrow Wilson Bridge for the persistent flooding problems, but Fairfax County officials say the Huntington community floods because of tidal surges from the Potomac River and flash flooding from the Cameron Run watershed. Because the houses were built before modern floodplain regulations, county leaders say, the neighborhood needs special protection. The floodwall is at least two years away, leading many neighbors here to worry that another flooding event could come any day.
"We would hope that we wouldn't have the same problem, but there's no guarantee of that," said Mount Vernon Supervisor Gerry Hyland. "We don't have a silver bullet that's going to keep a whole bunch of water out of that community absent a levee."
A LEVEE is an earthen embankment that runs parallel to the course of a river. The purpose of a constructed levee is to minimize flooding. Back in 2006, the Army Corps of Engineers recommended the construction of a levee. But county leaders failed to take action. That's why the 2011 flood created so much frustration in Huntington.
"People here are frustrated, upset and distraught," said David Coon shortly after the 2011 flood. "The county has basically dropped the ball."
Now, feelings in the Huntington neighborhood have turned from anger and frustration to disbelief and cynicism. Many neighbors here say they would like to see compensation from the government for expenses they have paid to clean mold out of their house and renovate their basements. When asked about the $30 million floodwall, several neighbors here responded with flashes of anger.
"That $30 million doesn't have anything to do with what it cost us to get back into our homes," said Titus Boyd, who has lived in Huntington since 1966. "Give us that first."
EVERYONE HERE has a story about mold and mildew, fish swimming in standing water along the street. In 2006, county officials declared 160 homes uninhabitable after a major storm. Neighborhood residents were hit again in 2011, when another major flood evacuated the neighborhood yet again.
"I had to evacuate when I was seven months pregnant," said Dana Hoekestra, who moved here in 2009 "I had to walk three or four blocks uphill to get to a car that could take me somewhere because my husband wasn't here."